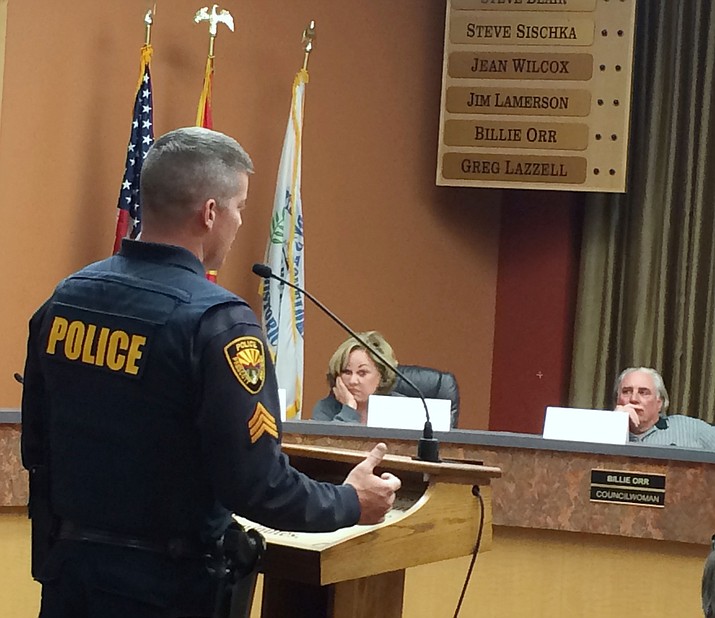 Photo by Cindy Barks.
Originally Published: May 1, 2016 6:03 a.m.
Editor's note: This is a part of an ongoing Daily Courier series of articles on group homes in Prescott.
PRESCOTT – The order to leave came swiftly, according to the two young men who had traveled across the country two months earlier to recover from addiction, and were now scrambling to find a way back to their homes in New York.
"I was literally told, 'Just pack your bags and leave,'" Vincent Rienzie said recently, as he waited for a shuttle to take him from Prescott to Phoenix's Sky Harbor International Airport.
Rienzie and his friend, Christopher Watson, said they met while in a local recovery center. On the same day in late March, they say they were summarily asked to leave the home with just a few minutes' notice.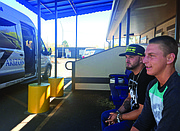 The men's predicament came up at Prescott Mayor Harry Oberg's Ad Hoc Committee on Structured Sober Living Homes Wednesday, April 27, during a discussion about the "exit strategies" used by the more than 170 group homes that currently operate in Prescott.
Local residents have long contended that group homes often discharge clients onto the streets, leaving the recovering addicts and alcoholics with nowhere to go and no way to get back to their homes. Many in the community have pushed for more defined exit policies that would give clients who leave a recovery program either a way home, or a way into another program.
Mary Beth Hrin, liaison for Arizona Rep. Noel Campbell, brought up the case of Rienzie and Watson this past week to illustrate the existing problems.
Hrin told the committee she learned that the two young men had been "streeted" in March, and she and Ad Hoc Committee Chairman Glenn Martin interviewed the pair before they left for New York. In their statements, the two men told of being asked to leave and take their belongings with them.
"I corroborated the evidence on this, and I was contacted by the boys' therapist," Hrin said. She described Rienzie and Watson as "good kids who were not using."
Officials with Promise Recovery Center, where the men said they were staying, did not respond to requests by The Daily Courier for a comment on the situation.
While Hrin says Watson was told by the center that he had broken some of the house rules, she maintained that the two men were asked to leave because their insurance company had stopped paying for their treatment.
After spending several days at a local hotel, Rienzie and Watson were preparing to leave for their flights home on April 2.
"They were not interested in going into another home," Hrin said. "They really just wanted to go back to New York."
Hrin, who has worked with Campbell on a state bill that would give cities and counties the authority to regulate structured sober-living homes more strictly, told the committee, "I'm hoping you can investigate this."
On Friday, April 29, Campbell said his bill, House Bill 2107, is still awaiting a final vote by the House of Representatives while the legislature works on the state budget. If the bill gets state approval, Campbell says it would give Prescott the authority to require more defined exit plans.
Peter Thomas, executive director of Chapter 5 Treatment Programs and an industry liaison to the ad hoc committee, told the committee that Chapter 5 has stringent policies for exiting the program, and he said, "NARA has a mandate that our members have an exit policy in place."
And of the centers that kick clients out for breaking rules, Thomas said, "It's an old mentality in addiction, and it's seen in all areas – the tough-love mentality. 'If you're not ready, get out.' It's been a hard shift away from that mentality."
Hrin added the homes that participate in NARA and with the ad hoc committee are largely not the ones that are creating the problems.
The exit strategy issue was just one of a number of group home-related matters that came up at the April 27 meeting of the Ad Hoc Committee on Structured Sober Living Homes.
The meeting began with a presentation by City Attorney Jon Paladini and Planning Manager George Worley on Prescott's history with group homes and its current status.
Worley said more than 170 group homes are now operating in the city. Of those, nearly half have never registered with city.
"Many of the homes were 'grandfathered' and have continued in operation," Worley said, referring to the homes that were already in existence in 2013 when the city implemented its registration rules, and therefore were not covered under the new regulations.
"They never applied, and they were not required to," Worley said of many of those grandfathered homes. Still, he maintained that the city knows about most of the homes through observations and calls from the public.
A city graph shows that Prescott had 21 new group-homes applications in 2014 and 17 new applications in 2015. This year to date, the city has had six applications for new homes.
"There's certainly a significant trend downward," Worley said of the new applications, adding that – based on the numbers in the first four months of the year – the city could end up with about the same number of new applications this year as it had last year. He noted, however, "It's variable, depending on their industry."
Committee members had a number of questions about the heavy group-home clustering that has occurred in some Prescott neighborhoods.
Maintaining that neighborhoods could "get to the point of diminishing return" when they become saturated with group homes, Committee Member Lauren Newington asked whether the city could impose a cap on the number of group homes allowed.
Paladini responded that a cap on group homes would be problematic, because it would be "facially discriminatory."
Paladini said that although Prescott could reach the point where it would have a "theoretical cap" because of the city's 800-foot buffer requirement between new group homes, he said the city is far from that point.
Martin said the committee will be working to answer citizens' questions and deal with issues that arise. But, he said, "It's important to know that you're not going to always hear exactly what you want to hear."
The committee meets monthly to work on the group home issue.