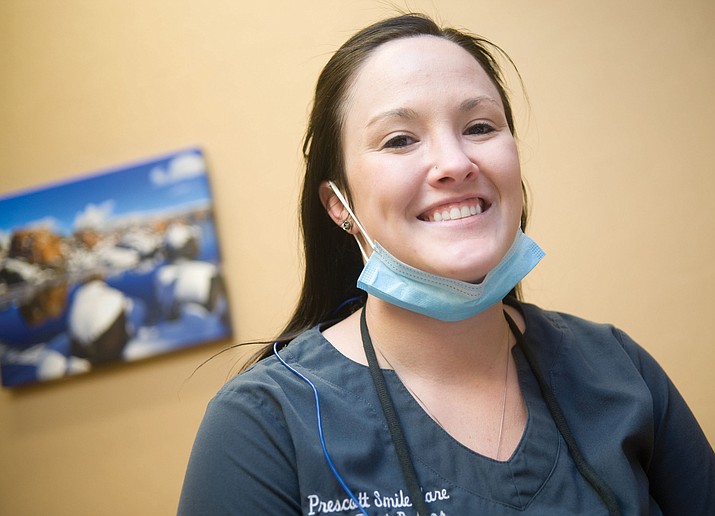 Photo by Les Stukenberg.
Originally Published: May 1, 2016 6 a.m.
The Daily Courier lists its inaugural 20 Under 40 winners today, for which readers honored 20 area entrepreneurs, managers, business owners and professionals younger than 40.
Dr. Tori Balbos is the product of a dentist family.
Her father, Curt Bowman, who is also her business partner, has been a dentist in Prescott for nearly 20 years.

Tori at a Glance
Dentist at Prescott Smile Care
Age: 28
Education: Graduated from Prescott High School in 2006; received a Biochemistry degree from Arizona State University in 2009; received a Doctorate of Dental Surgery from University of Colorado School of Dental Medicine in 2013.
Family: Husband, Sean; parents, Curt and Shellie Bowman; brother Michael Bowman; grandmother Bobbi Higgins.
Interests: Being outdoors; hunting; fishing; reading; volleyball; spending time with family.
Business address: 3765 Crossings Dr., Suite A, Prescott
Phone number: 928-445-8503
Website: PrescottSmileCare.com
"My dad was a big influence on my career choice and has been a wonderful role model for me," Balbos said.
She's been working in Prescott with her father ever since graduating from the University of Colorado School of Dentistry in the summer of 2013. At the university, she was the President of Delta Sigma Delta.
While receiving her bachelor's in Biochemistry at Arizona State University, she was a member of Pi Beta Phi.
She is certified in nitrous oxide, six-month smile, is Cerac trained and continues to further her education by attending various courses.
"I am very grateful to be a part of a profession that I love," Balbos said.
She believes the secret to success in her industry is simple: "Treat your patients as if they are your family and always have compassion for others."
More like this story