'She knew how to fly a plane': Flying community honors 89-year-old Cottonwood woman
Originally Published: March 29, 2016 6 a.m.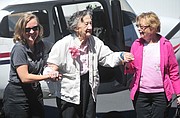 PRESCOTT – Irene Leverton was surprised to see the crowd that had assembled at a North-Aire Aviation hangar in her honor Thursday afternoon, March 24.
She was flown from Cottonwood, where she resides in an assisted-living home, to a hangar at Prescott's Ernest A. Love Field for her 89th birthday celebration.
If you think an airplane hangar is an odd place for birthday cake and ice cream, well, you don't know Irene.
She decided to pursue a career as a pilot in the early 1940s, a time when women weren't especially welcome in the cockpit.
In her time flying, which began in 1944, she racked up an amazing 25,700 flight hours over 65 years. That's the equivalent of over one thousand 24-hour days in flight, or nearly three years in the air, 24 hours a day, seven days a week.
Thursday, Irene was a little overwhelmed, but seemed happy to be welcomed by the crowd, some of whom were old friends, some new.
North-Aire President Greg Reverdiau gave her a bouquet and an award for her contributions to aviation, and then she received her guests, many of whom had a memory to share with Irene.
Told she looked like she was doing well, she said, "I sort of am!"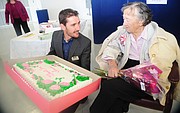 Fifty-five years ago, Irene was preparing to go into space as a Mercury astronaut.
She and 12 other women were part of a secret program, privately funded, that put them through the same battery of tests at the same facility used to test the seven male astronauts who had been selected to fly the Project Mercury space capsule.
But while the Mercury 7 went into space, the so-called "Mercury 13" were left on Earth.
Irene and her compatriots weren't considered for NASA spaceflight, because NASA required the pilots to have military experience and the women didn't have it.
Undaunted – OK, perhaps a touch daunted — Irene she turned her attention back to airplanes and began instructing pilots and giving checkrides for students to get their pilot's license. She became well known for enforcing rigorous standards.
"I have her name in my logbook," said Marilyn Urban, who once took a checkride with Irene. "But before we could even enter the cockpit, she was showing me all these screws in the ailerons and flaps, and saying, 'You've got to check on these.'"
Urban said that was not normally expected of a pilot, but "she wanted to make sure I knew that."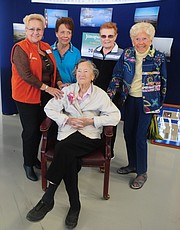 Marge Matheny said, "Her checkrides? You better do everything correct, otherwise you didn't pass.
"She said, 'I'm only doing it for your safety so you stay alive when you fly.'"
Matheny said Irene was a wealth of aviation knowledge. "Any question you had about an airplane, or flying, or a chart, she could answer. Anything."
The topic of combat flying came up, and Irene, who just missed the chance to fly as a WASP in World War II, told her admirers, as she had in the past: "That's what I was hoping" to do.
"She knew how to fly a plane. She was born to fly," Urban said.
Kathy Schmier, who knows Irene best, said there's a plan in the works for her to return to Prescott to act as the starter the 40th Air Race Classic in late June. Schmier is also working to re-unite Irene with another of the Mercury 13 pilots at the race.
On Thursday, Irene was given a framed "Mercury 13" poster, signed a while back by all the surviving members of the 13.
The poster featured a phrase that Irene had printed onto her business cards years ago:
"For some, the sky is not the limit."
More like this story
SUBMIT FEEDBACK
Click Below to: