Locals invest $450,000 in early childhood literacy: Three-year grant will fund design of a pilot program to serve Yavapai County students
Originally Published: March 27, 2016 5:55 a.m.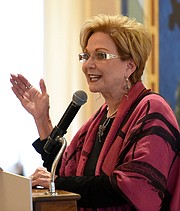 PRESCOTT — The Arizona Community Foundation of Yavapai County, the Margaret T. Morris Foundation and the James Family Foundation have pooled their resources to award more than $450,000 to Arizona Reads Now, a collaboration between Yavapai County Education Service Agency and Prescott Unified School District.
The three local entities came together around a common concern for the academic achievement and future career success of the community's youth, partnering to make a substantial investment in early childhood literacy. They have partnered to invest $450,000 in the Arizona Reads Now early childhood literacy project over the next three years. The money will be awarded in annual installments of $150,000.
"This grant represents a tremendous opportunity in our school district to bolster our efforts in literacy, explore additional supports for young readers and pilot a program that can serve as a model to roll out in schools across the county," said Joe Howard, superintendent of the Prescott Unified School District. "But really, this opportunity is about our kids. More than anything, we are thrilled to partner with the Yavapai County Education Service Agency in helping all of our students get reading proficiently by that third-grade milestone."
Arizona Reads Now
The grant will pay for design and implementation of a literacy program that will increase the percentage of Prescott Unified School District Students reading at or above grade level by third grade. The goal, according to Stan Goligoski of Yavapai County Education Service Agency, is to increase proficiency to 100 percent and develop an early literacy community action program that can be adapted to serve other school districts in Yavapai County.
The first phase of the project will be to hire a Director of Early Literacy who will serve as the Arizona Reads Now administrator. The Director will be charged with assessing barriers to student reading proficiency unique to the students attending Prescott schools, and developing and implementing a program to respond to needs.
The goal is to address literacy from a variety of angles, including teacher training, parental engagement, and partnerships with existing programs, among other groups.
More like this story
SUBMIT FEEDBACK
Click Below to:
This Week's Circulars
To view money-saving ads...