Egg-citing Day: Great Prescott Easter Egg Hunt a success

Originally Published: March 27, 2016 6:01 a.m.
Photo Gallery
2016 Great Prescott Easter Egg Hunt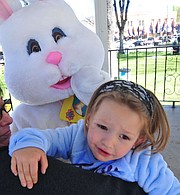 PRESCOTT - The kids were on the hunt at the courthouse plaza Saturday, March 26, for the Great Prescott Easter Egg Hunt.
Featuring pictures with the Easter Bunny, the Hickman Eggs Coloring Booth and the Easter Hometown Carnival, the event was capped off with a giant free-for-all at 2 p.m. with 15,000 eggs, following three smaller rushes for the little kids.
Reaction to this year's event was much more positive than last year's.
After going through a learning curve in 2015, this year's Easter Egg Hunt was all figured out, said event organizer Steve Gottlieb of Eagle Management and Events.
"We got it dialed in and plus we tripled the number of eggs and added the Golden Tickets," Gottlieb said, noting that the final run at 2 p.m. included 15,000 eggs. Things were looking good too, with no injuries prior to the big one as well. "No kids hurt. Mission accomplished."
Gottlieb also praised all of the work Northern Arizona Recovery Association put into the event, which included the 50 Golden Tickets, which once found contained coupons or free items from local businesses. The Great Prescott Easter Egg Hunt couldn't have happened without them, he said.
Plenty of people were out having a good time too, including Azalea Salmeron and her family, who had recently moved from Latin America to Prescott in July. Salmeron has a 4-year-old and a 9-year-old.
Looking for events that happen downtown in order to immerse themselves in the community, this is the first time the children have ever gone to an Easter egg hunt, Salmeron said.
The event was much more enjoyable than last year, Patty Patterson said.
"It was crazy … last year when we were here, they were lined up all the way back here and people missed it," Patterson said, pointing beyond the courthouse. "I think what they did this time was way better."
The only aspect to the event that could have been done better was stating the times of the smaller rushes for the little kids, Patterson said. There were three at 11:30 a.m., 12:15 p.m. and 1 p.m. however those times were not included on any promotions for the event, she said.
"Other than that, I think they've done a great job this year. Nobody's standing in any long lines," she said.
More like this story
SUBMIT FEEDBACK
Click Below to: