Prescott Valley growth continues to outpace region
By
Les Bowen
|
NewsyLesBowen
Originally Published: March 25, 2016 6 a.m.
PRESCOTT VALLEY – In a time when other communities are still seeing a sluggish rebound in residential development, town officials in Prescott Valley say they're seeing robust growth.
"Prescott Valley is the largest community in Yavapai County, it's the fastest-growing community in Yavapai County, and it's growing younger," Town Manager Larry Tarkowski said.
But that hasn't always been the case. Prescott Valley saw rapid growth before the recession, taking it from around 25,000 residents at the start of the century to more than 37,000 before the housing market collapsed, according to U.S. Census figures.
Last year, Prescott Valley became the county's largest community, surpassing Prescott by about 500 residents, based on July 2015 estimates from the state Office of Employment and Population Statistics.
Richard Parker, the town's community development director, said pre-recession, the town was growing at a rate of about 1,000 new home permits per year.
That fell off during the recession, and in December 2009, the town issued just one residential permit.
Compare that to the December 2015 figures, which included permits for 30 new single family homes, with more than 300 other building permits, totaling some $8.2 million in construction.
"There's been a trend over the past couple of years that housing's increased," Parker said.
Universal Homes is one of the town's largest developers – it's the name behind the Granville subdivision, which received 13 of the 30 residential permits issued in December.
Owner Joe Contadino said Prescott Valley is "extremely favorable compared to other communities around here."
Tarkowski lauded the town's ability to attract younger families, as well as retirees, giving it a lower median age than other communities in the greater Prescott area.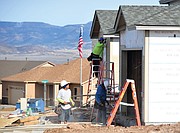 Contadino agreed, pointing to statistics his office compiled on the company's home sales from December through February.
He said about half of homebuyers were in-state, but the other have come from across the country – everywhere from Washington to North Carolina and from New York to Colorado.
Contadino said many are following their children who may live in the Phoenix area, but they choose to live in Prescott Valley because it has a smaller town feeling and a more moderate climate while still offering most the amenities they want.
For younger families, one of the primary drivers is jobs – which has been one of the town's primary focuses in working with groups like the Prescott Valley Economic Development Foundation and the Prescott Valley Chamber of Commerce.
"This is a really varied population," Contadino said.
Tarkowski said that's no accident.
"It's been a specific direction of councils and mayors to create a well-rounded community," he said.
Aside from employment, Tarkowski said there are other factors, such as the availability of retail services and amenities like parks, which attract residents.
"We have a standard of 6. 8 acres of park per 1,000 residents," Tarkowski said.
It's led to the town's ability to maintain the centerpieces of its parks department – places like Fain Park and Mountain Valley Park. But it's also spelled the creation of smaller neighborhood parks scattered across the town.
Parker said it took some time to get moving after the economy, with many skilled workers leaving the region when construction slowed.
"The trades are coming back," Parker said, indicating expectations for continued housing growth.
But even during the recession years, Prescott Valley continued to grow, even as neighboring communities saw slower growth or even residents moving out.
The growth of prior years made Prescott Valley a magnet for commercial growth.
Parker said for about seven years, the town has seen about 100,000 square feet in new commercial developments.
"That picked up the slack with the downturn we saw with residential," he said.
He added that trend in commercial development has slowed somewhat, as residential growth has picked up.
Parker attributed Prescott Valley's growth trends to the climate established by the town's elected officials.
He pointed to zoning changes the Town council approved this week that created more multi-family housing development space along Spouse and Loos drives.
Tarkowski said the community's development has been a snowball effect of sorts.
"When you develop a certain critical mass, you end up attracting services," he said.
One example of that snowball is the community's expansion in medical services. With added population, the town saw the opening of Yavapai Regional Medical Center's east campus in 2006, and the addition of several medical facilities alongside it.
Now as the medical industry attracts more doctors, nurses and other employees, it's creating more of the residential growth that started the process.
The same is true in other sectors, including the town's growth in commercial and industrial sectors.
"That's the benefit of growth," Tarkoski said.
He pointed out that the town's mayor and council have also insisted that growth pays for itself, meaning as new development occurs, the developer or buyer pays the costs of the added demands on infrastructure like roads, water, sewer and library.
He said when the town makes the next planned expansion of Glassford Hill Road, it'll be developers bearing the cost of new lanes.
Tarkowski said he doesn't expect the trend to change anytime soon.
Calling the current picture the "cusp of the iceberg" he said, "You're seeing the growth and maturation of the community."
More like this story
SUBMIT FEEDBACK
Click Below to: