Revamped Boys & Girls Club enriches lives of youths in Prescott, Prescott Valley with positive reinforcement and old-fashioned fun

By
Nanci Hutson
|
HutsonNanci
Originally Published: March 24, 2016 6:02 a.m.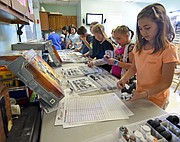 The cacophony of children's voices combined with colorful handprints on the concrete walls leading to an upstairs, gym-like room suggests an atmosphere conducive to youthful play, study and creativity.
Whether building robots, playing dodgeball, crafting a cardboard-and-colored-paper version of Dr. Seuss' Truffula Trees from his famous book, "The Lorax," or singing karaoke, these boys and girls are spending their after-school time engaged in supervised activities intended to enrich their lives.
The Boys & Girls Clubs of Central Arizona campuses in Prescott and Prescott Valley have some 678 boys and girls between ages 6 and 18 enrolled in the program reorganized with new leadership and building upgrades in May 2014. Last year, the clubs had 37, 410 visits to its campuses.
The club initially opened locally in 1998, but was forced to close in February 2014 due to financial concerns and a need to make some building improvements.
MORE:
The Boys & Girls Club of Central Arizona – campuses in Prescott and Prescott Valley – will have a fundraising event on May 7 titled, "Afternoon at the Derby" at the Hassayampa Inn on Gurley Street. The $75-per-person tickets will treat participants to a live viewing of The Kentucky Derby as well as casino games, raffles, hors d'oeuvres, prizes for best hat and best dressed male, and a live auction. Tickets can be purchased through: www.afternoonatthederby.com. For more information, call 928-776-8686.
On May 21, the club will host its Second Annual Lights Out Golf Classic at Antelope Lanes on Perkins Drive. Tickets to the 7 p.m.-11:30 p.m. golf tournament with a 1980s theme that will also include a silent auction and dinner are $70 for an individual golfer or $280 for a foursome. For tickets or more information, contact Kristen Kerns at 928-776-8686 or kkerns@bgccaz.org.
Over the last couple years, the club has revitalized and upgraded its programming such that on any given week there are an average of 75 children attending the Prescott facility on East Aubrey Street and 105 at the Prescott Valley location on Loos Drive. Club officials said the Prescott Valley club has had a waiting list since the third day of school this year.
With the reorganization of the clubs, Executive Director Gerald Szostak said the fee structure changed such that families pay a $25 annual fee and then monthly fees that range from $40 to $20 based on income and free or reduced lunch eligibility. The charge for siblings is $10 less than the regular monthly fee. Families are not charged extra for holiday breaks. Summer camp is offered at $50 week with discounts available based on income.
"We don't want money to be a barrier for kids to come and participate," said Szostak of the nonprofit club that has an operating budget of $573,000 that comes from fees and community donations.
Szostak is clearly proud of what these clubs are able to offer this area's youth, with their focus on leadership development, healthy lifestyle and positive peer relationships. A typical day will start with Power Hour, or a time when students work on homework or get extra tutoring, followed by programs that promote good nutrition and positive decision-making – no smoking, drugs or alcohol. Some days the students will volunteer at the local Humane Society to reinforce goals of civic involvement and citizenship, he said.
Not to mention good old-fashioned fun and games, be it a blackboard word game or a rousing game of touch football.
"We try and provide new experiences to our kids," Szostak said.
Like those who made salsa from the produce they harvested from the garden they planted.
At the Prescott Valley campus on Friday, 8-year-old Maria Rodriguez couldn't stop talking about the robotic spider she and a group of her friends built out of Legos. It was the first time she had ever tried such a thing, and the fact the legs moved was a clear thrill.
Twelve-year-old Jeremiah Dempsey said he likes the club so much he turned down a family camping trip because he didn't want to miss hanging out with his friends at the club. Be it playing a game outdoors, or even finishing up homework, Jeremiah said this club is a place where everybody is welcome.
"It's really fun, and I think it's affordable," Jeremiah said. "My parents said I don't have to go, but I want to go to Boys & Girls Club."
A University of Michigan study commissioned by the national Boys & Girls Clubs of America determined that every dollar invested in these clubs returns $9.60 into the local communities.
"As a nationwide federation, clubs spend $1.4 billion annually on operating costs resulting in $13.8 billion in lifetime benefits to youth, families
and our society," the study said.
Researchers determined these clubs not only enrich the youth participants, reducing health care, criminal justice and public assistance costs, but 36 percent of the parents said the clubs allowed them to keep their jobs.
"I think they're amazing," said Carrie Osterloh, a working mother of six children.
Not only is it a safe environment, Osterloh said the staff help guide the children into building healthy relationships with their fellow peers.
"I know it's really helped my kids," Osterloh said after picking up her youngest son, Miles, 7, from the Prescott facility.
"They love it; it's a place to go where they are not bored."
Miles agrees.
"They always have fun games to play. They keep our energy up. We stay happy."
More like this story
SUBMIT FEEDBACK
Click Below to:
This Week's Circulars
To view money-saving ads...