Yavapai baseball, softball take care of business at home
By
Doug Cook
|
dougout_dc
Originally Published: March 22, 2016 10:44 p.m.
JR. COLLEGE BASEBALL
Yavapai 7, Phoenix College 6
Yavapai 18, Phoenix College 3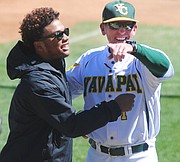 PRESCOTT – For the second time in three days, the Yavapai College baseball team swept an Arizona Conference doubleheader against Phoenix College, extending the Roughriders' winning streak to seven.
On Tuesday, March 22, at Roughrider Park, Yavapai upped its league record to 10-3 to remain within striking distance of Division I conference leaders Central Arizona (10-2 going into Tuesday) and Cochise (11-3, swept Glendale on Tuesday).
The Roughriders had just defeated Phoenix on the road on Saturday, March 19, by the scores of 1-0 and 14-1.
Yavapai will play four more games this month. First up, the Roughriders will hit the road to face league foe Scottsdale C.C. for a single game at 2 p.m. Friday, March 25.
JR. COLLEGE SOFTBALL
Yavapai 2, Pima 0
Yavapai 13, Pima 7
Yavapai College's softball team took both games of an Arizona Conference twin bill versus Pima Community College on Tuesday, March 22, at Bill Vallely Field in Prescott, notching its fourth consecutive win.
The Division I Roughriders currently stand at 20-8 in league play, while Pima dipped to 16-8.
In the opener, Yavapai starting pitcher Amy Robinson notched the victory, tossing a three-hit shutout with five strikeouts and one walk on 79 pitches.
The Roughriders scored a run apiece in the second and fourth innings, finishing with a total of seven hits. Dustie Durham (2-for-3, double, run scored), Andrea Sotelo (1-for-3, double), Karissa Pena (1-for-1, RBI) and Mayhina Chong (1-for-3, run scored) paced YC at the dish.
In the second game, Yavapai plated a total of 13 runs on 14 hits, claiming a commanding 7-0 lead through three innings. Phoenix scored four runs in the fourth and three in the fifth to make it interesting, trailing 10-7 through five. But the Roughriders quashed the comeback attempt with three runs in the sixth.
Prescott's own Sydney Forray propelled Yavapai offensively, going 2-for-4 with a triple and a homer, three RBIs and two runs scored. Sotelo (3-for-3, double, three RBIs, two runs scored), Chong (2-for-4, double, RBI, three runs scored), Pena (2-for-3, RBI, run scored) and Nicole Matta (1-for-3, RBI, run scored) also contributed.
On the pitcher's slab, Robinson won her second game of the day, this time in relief of starter Dustie Durham. Robinson allowed three runs, all unearned, in 3-2/3 innings, striking out two and walking none. Yavapai committed four errors in the field, but overcame them.
The Roughriders will play host to a key conference doubleheader at noon and 2 p.m. Saturday, March 26, versus D-I foe Central Arizona at Vallely Field.
SUBMIT FEEDBACK
Click Below to:
More like this story