Prescott's sober-living group homes: 'A festering issue'
Prescott parents push for more regulation after death of son

By
Cindy Barks
|
Cindy_Barks
Originally Published: March 20, 2016 6 a.m.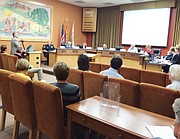 City, state, industry tackle the problems
Editor's note: This is the next in an ongoing series of articles concerning the sober-living group home issue in Prescott.
PRESCOTT – An issue "that has been festering for some time" in Prescott appears to be coming to a head on a number of different levels.
Just in the past two weeks, discussions have taken place at the city level, the state level, and the industry level on how best to deal with the ongoing proliferation of sober-living group homes in the city...
http://dcourier.c...">Click to see full story
PRESCOTT — Jill and Glenn Martin have become experts in the field of the drug and alcohol rehab homes – albeit not initially by choice.
The Prescott couple can reel off names of California and Arizona state legislators, ill-fated regulatory bills, and insurance procedures.
Sadly, for the Martins, that expertise came at a heartbreaking cost. When their second son Joey was just 22 years old, he died in a group home in Loma Linda, California of an accidental overdose of pain medications Oxycodone and Hydrocodone.
For the previous five years, the Martins had waged a war against Joey's addiction, which began after he suffered a back injury as a 16-year-old passenger in car that crashed head-on with another vehicle that crossed the center line.
The hyper-extended vertebrae, which was untreatable by surgery, caused the teenager chronic pain.
Overnight, the good kid who had until then lived his life "full throttle," playing baseball, skateboarding, and fishing, became racked with pain.
"It hurt him so bad," Glenn Martin recalls. "He rarely rode his skateboard anymore," and he withdrew from the high school baseball team.
The Martins tried a number of natural methods – physical rehab, chiropractic treatment, acupuncture. Early on, Jill insisted, "No pain pills."
But, after numerous unsuccessful attempts with physical therapy, they took Joey to a pain clinic, where a doctor suggested a "non-narcotic" painkiller, Tramadol.
Glenn said he heard that definition – "non-narcotic" – and, perhaps naively, thought the pills would be "maybe a little stronger than an aspirin."
Soon, however, "the next thing we knew, Joey was eating them like candy," Glenn said. By the time the Martins learned to beware of the Tramadol, they said, "It was too late."
That roughly coincided with another event that would change things for the Martins – Joey's 18th birthday.
After that, Jill says, HIPAA (Health Insurance Portability and Accountability Act) privacy rules took away their control of Joey's treatment. Soon, their son was getting his own prescriptions for opioids, such as Oxycodone and Percocet. Later, he began buying the drugs on the streets.
That pitched the Martins into a years-long cycle of drug-rehab homes, relapses, and more treatment.
Joey went to rehab the first time in 2010, and stayed only a week. Because he was 18, his parents couldn't make him stay, and at that point, "I think he really thought he could overcome it on his own," Jill said.
And he did – for a time.
But each rehab experience was followed by a relapse. By the time he died on Jan. 11, 2013, Joey had been in three rehab programs and four sober homes.
One of the problems, Jill said, was that insurance covered the treatment program for 7 a.m. to 7 p.m. but, "At night, they were free to go where they want."
The Martins did their research about available sober living homes and found one that had great reviews. "We were desperately trying to find something that would work," Jill said.
The house in Hemet worked well for Joey's first stay, and he completed the program. But when he came home after five months, he relapsed again. At that point, he decided to go back into the sober living home without doing the rehab.
Although the home's house manager had been in control during the first stay, the Martins say things had changed when Joey went back for his second stay. A new manager was on board by then, and the Martins now contend that he did not have the proper training.
By all accounts, Joey was doing well at first, signing up for school, and going to meetings.
But at one of those meetings, the Martins later learned that others had noticed that Joey didn't look well. Even though he had the signs of using drugs again, his sober-living manager let him back into the house without doing a drug test.
That night, the Martins got the call that Joey had stopped breathing in his bed, and had been taken to the emergency room. He was pronounced dead on arrival.
In their efforts to get answers, the Martins say several things stand out. For instance, why had Joey not had a drug test for 45 days?
"If you're working with people who are high risk, at the very least, whip out a $12 drug test," Glenn said.
Their subsequent efforts to get answers and some level of accountability have been tough going, say the Martins.
For instance, a lawyer looking into a possible lawsuit against the group home determined "there wasn't enough money to be recouped," Jill said.
The couple didn't sense much urgency on the part of law enforcement, either.
"They figured it was just another drug addict dying," Glenn Martin said.
Although the Martins' experience has been heartbreaking, they have turned their energies now to helping others.
At this point, they say they have nothing to lose in their efforts to bring more accountability to the group home industry. They have testified numerous times before the Prescott City Council and the Arizona State Legislature to push for more regulation. Jill's testimony in front of the Arizona Senate Health and Human Services Committee this past week was central in a positive recommendation for the bill that would give cities and counties more authority to regulate structured sober living homes.
Meanwhile, Glenn has taken on the role of chairman of Prescott Mayor Harry Oberg's new Mayor's Ad Hoc Committee on Structured Living Homes.
Although Jill says "We thought we did everything right" in trying to help their son, she told the senate committee that parents have little way of knowing the qualifications of house managers in the largely unregulated sober-living industry.
She concluded her testimony by telling the committee, "I believe my son would be alive today had this manager been trained."
The Martins moved to Prescott about two years ago from Yucca Valley, California, after Glenn retired as a Kroger store director.
COMING UP -
After three years of moving from group home to group home in Prescott, Daniel Olson says he came to a realization: The small-town atmosphere was saturated with recovering addicts just like him. -
In this week's Courier
Related Stories
More like this story
SUBMIT FEEDBACK
Click Below to:
This Week's Circulars
To view money-saving ads...