City, state, industry tackle sober-living group home problems

By
Cindy Barks
|
Cindy_Barks
Originally Published: March 20, 2016 6 a.m.
Editor's note: This is the next in an ongoing series of articles concerning the sober-living group home issue in Prescott.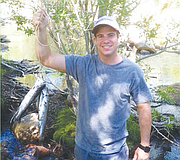 PRESCOTT'S SOBER-LIVING GROUP HOMES: 'A FESTERING ISSUE'
PRESCOTT — Jill and Glenn Martin have become experts in the field of the drug and alcohol rehab homes – albeit not initially by choice...
http://dcourier.c...">Click for this related story
PRESCOTT – An issue "that has been festering for some time" in Prescott appears to be coming to a head on a number of different levels.
Just in the past two weeks, discussions have taken place at the city level, the state level, and the industry level on how best to deal with the ongoing proliferation of sober-living group homes in the city.
When Prescott Mayor Harry Oberg kicked off the first meeting of his Mayor's Ad Hoc Committee on Structured Sober Living Homes this past week, he told committee members that the issue has long "festered" in Prescott, but has yet to be resolved. "I continue to get complaints from residents," said Oberg, who took office in November 2015.
The March 10 meeting served as an introduction of the eight committee members, as well as the intended role of the group.
Oberg stressed that the committee discussions should be "fact-based," and goal-driven. He added: "We want to find resolutions."
To help guide the committee, the city released a nine-point list of responsibilities of the committee. Among them:
• Receive and review complaints from city residents and/or structured sober living home clients regarding health, safety, and welfare issues with specific homes.
• Determine whether the homes reported by the complainants are listed in the city's registry.
• Review public-safety calls for service at structured sober-living homes.
• Review fire calls for service for drug overdose incidents and county coroner records for overdose deaths.
•Recommend follow-up to complaints.
• Identify trends in resident/client complains and report to the city with appropriate recommendations.
Earlier, at a March 4 meeting of the Northern Arizona Recovery Association (NARA), Oberg told several dozen industry representatives that he had heard from many Prescott residents who had complained to the city, but had never heard back from city officials. In response, Oberg told the NARA members, "I decided it was a good idea to have a task force."
Indeed, the lack of previous city response was one of the issues that arose among members of the Mayor's Ad Hoc Committee. Jeri Smith-Fornara, a long-time Prescott resident and a member of the ad hoc committee, said a group home in her historic neighborhood had generated "hundreds of complaints" from nearby residents over the years.
But, Smith-Fornara said, "For the past five police chiefs, they have been unable to do anything." She maintained that the formation of the Mayor's Ad Hoc Committee "is one of the most important things the city has done," adding that "during the past six years, we've really had nothing done."
Police Chief Jerald Monahan noted that the committee would operate under the auspices of the Prescott Police Department, and he said the department would be following up on the identified issues.
While the city has released a list of about 160 registered drug and alcohol recovery homes in the community, Smith-Fornara maintained that the total likely tops 200.
Glenn Martin, the chairman of the committee, urged the committee members to look forward, not back. "Today is a new day," Martin said. "We have a committee here, and we should move forward."
Still, several committee members had questions for Monahan and Code Enforcement Compliance Officer Michael Fleming about how the city handles homes that appear to be out of compliance with city laws.
Committee Member Constance Cantelme, who lives in a downtown historic area, questioned Fleming about the process for identifying group homes that have not registered with the city and appear to be in violation of the city's 800-foot buffer zone.
Fleming responded that the city sends letters to homes that are out of compliance. "They're told they cannot use that home," he said.
Fleming explained that when he hears a complaint of a possible unreported group home, he watches the home for a time to determine whether it is, indeed, functioning as a recovery home. He added that he had recently identified about a dozen homes that had failed to register with the city.
Peter Thomas, the chief operating officer at Chapter 5 Treatment Centers, told the committee that members of the local industry organization NARA also are working to resolve the neighborhood issues. "We've had discussion in NARA meetings; we want to be good neighbors," Thomas said.
Chapter 5, which is licensed by the state, operates as a residential facility, as do several other self-contained facilities in Prescott, Thomas explained earlier. While those residential treatment facilities have a specified number of licensed beds, the sober-living homes that locate within residential areas do not require the same level of licensing. But, Thomas said, "We all get grouped with everyone else" within the community. NARA members have supported more regulation for the structured sober living homes.
The committee also heard from residents who worried about the impacts of having multiple group homes in their neighborhoods.
Nancy Paola, who moved to Prescott this past October, told the committee that when she was buying her northeast-Prescott home, a number of other houses in the neighborhood were for sale. Since that time, she said, "every house that was for sale is now a (treatment) facility."
Paola told the city she is worried about her property values. "Ownership is good for a community," she said. "But it's not a neighborhood of families anymore." She concluded: "What are you going to do about that, Prescott?"
Paola was uncertain later whether the group homes in her neighborhood meet the city's 800-foot buffer between similar uses.
City Attorney Jon Paladini said residents who suspect group homes are not in compliance with city codes should report the cases to the city's community development department.
Even as the city and NARA are working toward some sort of resolution, the Arizona State Legislature is considering a bill that would give the city the authority to more strictly regulate group homes.
Under the bill, cities and counties could opt to require registration for structured sober living homes, as well qualifications for group home managers. Bill sponsor Noel Campbell, a Republican representative from Prescott, said the bill could go to the floor of the Arizona Senate within the week.
The date of the next Mayor's Ad Hoc Committee has yet to be set, but City Clerk Dana DeLong said it likely would be scheduled in the third or fourth week of April.
Related Stories
More like this story
SUBMIT FEEDBACK
Click Below to:
This Week's Circulars
To view money-saving ads...