Two arrested after suspicious behavior at Prescott Wal-Mart
Originally Published: March 18, 2016 9:59 a.m.
PRESCOTT – A man and woman were arrested Thursday, March 17, after police said they were involved in a disturbance at the Wal-Mart on Gail Gardner Way, according to a Prescott police spokeswoman.
Cody R. Bowdoin, 30, of Prescott, was alleged to have been waving a gun outside an RV parked at the store around 1:15 p.m., Lt. Amy Bonney said.
Officers who responded determined that Bowdoin had actually had an "Airsoft" gun, which they found in a nearby vehicle, Bonney said.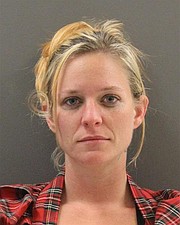 Bowdoin had an outstanding felony warrant for his arrest, and had drug paraphernalia and burglary tools in his possession, Bonney said, and he provided a false name and date of birth to officers, "in an apparent attempt to mislead the investigation."
A woman who was with him, Danielle R. Tullett, 26, of Prescott, also gave police false ID information.
Tullett was booked into the Camp Verde jail on one count of hindering prosecution. Bowdoin was booked on one count each of possession of drug paraphernalia, taking the identity of another, possession of burglary tools, providing false information as well as the outstanding warrant on drug related charges.
"While it is unknown why Bowdoin was seen waving the weapon around and acting suspiciously, drug use is believed to be a contributing factor," Bonney said.
More like this story
SUBMIT FEEDBACK
Click Below to: