Life on the street: Panhandlers have different needs
Originally Published: March 18, 2016 6:02 a.m.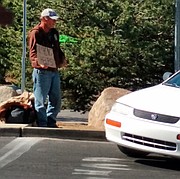 PRESCOTT – If you shop at a Wal-Mart store, odds are you've seen them, out near the exit from the parking lot to the street.
Panhandlers like the near-constant flow of traffic that the stores generate. Outbound is best because the drivers have to stop before leaving the lot.
They like the parking lot at the store on Highway 69 best, because it has just one way out, and so more cars pass by them.
You'll see far fewer panhandlers in the downtown area, and that's because of a city ordinance that makes it a no-begging zone. While the rest of the city is covered by an ordinance that prohibits "aggressive" panhandling, downtown is much more restrictive and the essentially disallows any panhandling at all.
Aggressive panhandling means touching a person being solicited, following them if it's likely to cause fear, continuing to ask after they've been turned down, blocking a person of vehicle, or using obscene or abusive language or gestures.
Panhandlers must also stay 15 feet away from the doors of banks, other businesses, and ATMs. They can't hang out at bus stops and must have permission to use private property.
"Being humiliated"
Standing at the exit road for the Wal-Mart on Gail Gardner Way is Steve. He, like most people who ask for money, positions himself in the "right of way," or the space directly next to Gail Gardner, and not technically on Wal-Mart property.
He said police seem to have no problem with that.
"I've had them pull right up here and stop," he said. "They just wave to me."
Steve spends his days relying on the generosity of strangers.
"That right there" — he motions toward a duffle bag — "is everything I own." He'll sleep in a motel tonight if he makes enough money, but if not, he will sleep "just anywhere."
He used to own an appliance-repair business, but things went south, and after a couple of divorces, he found himself jobless and homeless.
Steve tried panhandling in Las Vegas, figuring there was lots of money to be had in that town, but the 115-degree summer days were just too much, so he moved and ended up in Prescott.
At 60 years old, and with tremors caused by Parkinson's disease, Steve's prospects for the future aren't great.
"Once you're out here on the street for a while, it becomes such a struggle — a daily struggle — that you end up getting stuck in that rut.
"I've got absolutely no income whatsoever," he said, "Too young for Social Security."
And he doesn't believe he can get hired for a full-time job.
But Steve does occasionally get part-time work, and he jumps at the chance.
"I would much rather go to work for 50, 60, 80 bucks guaranteed than take a chance standing here, being humiliated," he said.
"Need money for food and beer"
At the other exit from the Wal-Mart is a man who doesn't feel humiliated.
Gene is a veteran of the U.S. Army who holds a two-sided sign. One side says "Homeless vet — will work" and the other says, "Homeless vet — need money for food and beer."
He's not kidding.
"I don't like a lot of rules. This way, I can continue my alcoholism on my own," he said, without a trace of irony or a smile. "I had a beer this morning.
"I think most homeless are that way. It's either drug or alcohol problems."
Gene likes the freedom of not having a home. He could stay at the Veteran's Administration domiciliary, but seems to prefer the challenge of camping without being caught by police.
"I camp with a friend who's been homeless for a long time, and we camouflage our tents, wear green clothing," he said, and after his Army experience, "I know how to hide my tracks in the woods."
Gene said there have been changes in the city ordinances that make it easier to ask for money.
"When I first moved here (about four years ago) it was illegal to panhandle with a sign," and he spent a good deal of time being run off by police.
But City Attorney Jon Paladini said Thursday he is unaware of a change like that, and that the only changes had been to the aggressive panhandling ordinance.
Gene said he can't find a full-time job, and "rent takes a full-time job."
This day, he thought he had a line on a part-time maintenance job, but the guys who said they'd hire him never showed.
"An honest day's labor, versus panhandling, you're going to make more money," Gene said. "Most people will give you $10 an hour, cash."
Still, he said, there's some money to be made by asking for it.
"Christians are a little more helpful," he said, "and they give you a 10-dollar bill, and you're good."
"Ain't nobody out here owes me anything"
Gene said, "You can almost tell (who's) got a higher income," because they don't "see us out here, and they're not going to give us any money. They're like, 'Get a job.'"
Both men disapprove of the people who ask for money but don't really need it.
"There's some on Social Security and they've got HUD housing, and they don't really need it," Gene said.
Steve said that, the previous day, he didn't get to his usual spot in time, and it was taken by a man whose wife sat in a nearby SUV.
"He wasn't in as much need as I was, he had a vehicle," he said.
Steve has a realistic view of his situation.
"There's a lot of homeless people out here on the street, thinks everybody owes them something," Steve said. "I'm not one of those. Ain't nobody out here owes me anything.
"All I can look forward to, is to hope today is a good day."
More like this story
SUBMIT FEEDBACK
Click Below to: