Local author talks Whiskey Row origins at Sharlot Hall

Originally Published: March 16, 2016 5:50 a.m.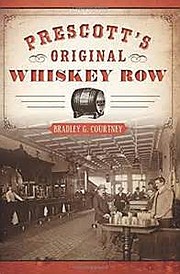 Brad Courtney, local historian and author, will present his "Origins of Whiskey Row" talk at the Sharlot Hall Museum, 415 W. Gurley St., on Saturday, March 19, debunking and uncloaking the hearsay, legends and myths surrounding Prescott's famous landmark. Admission to the presentation is free and begins at 2 p.m. in the West Gallery of the Lawler Exhibit Center.
For several years, Courtney has researched early mysteries and archival records about Whiskey Row, according to a release from Ken Leja, museum media and marketing manager. He's traced beginnings that date back to 1864, the release states.
"His book, 'Prescott's Original Whiskey Row' tells the history of the block-long, famous landmark," the release states. "The presentation will reveal some of his discoveries and focus on such saloons as the Diana, Quartz Rock, Cabinet and Palace, which stands proudly today as the Row's centerpiece."
Interest in Whiskey Row was sparked in Courtney via curiosity, the release states. After moving to Prescott following a career teaching on the Navajo Indian Reservation for 12 years, he wanted to learn more about the city's past, the release stated. Prior, he had taught in the inner city of Phoenix for 19 years and was a river boat pilot guiding tours down the Colorado River for six years, Leja said following the release. It gives him an interesting perspective in terms of seeing both sides of the issue, from the Anglo perspective as well as the Native
American perspective, he said.

However, there was very little published and devoted to the history of Whiskey Row, the release stated. So he started writing the book he originally wanted to read and has already started working on a follow-up book. Its working title is "The Resurrection of
Prescott's Whiskey Row," the release stated.
"He's a passionate person relating to the history of The Row and he's had a chance to do several different presentations dealing with the … major hangouts of Whiskey Row back in its heyday," Leja said.
More like this story
SUBMIT FEEDBACK
Click Below to: