"Every addict has a hole inside them that they're trying to fill"
Heroin's grip on addicts ruins lives, but some manage to turn things around
Originally Published: March 11, 2016 6:19 a.m.
This is part two of a two-part story about heroin, its abuse and the hold it can have on users.
PRESCOTT – Four out of five new heroin users started out using prescription painkillers such as Hydrocodone, Oxycontin, and morphine – opioids, which are in the same chemical family as heroin, according to the American Society of Addiction Medicine.
In 2012, the Arizona Medical Association said, "In Arizona, there were 82 painkiller prescriptions written per 100 people."
That's too much, said Dr. Leon Cattolico. The Cottonwood doctor, who works with MATForce to educate physicians on the dangers of prescribing opioids, said that, in the mid-1990s, a recommendation was made that doctors not worry about over-prescribing, because they were "not as addicting as first thought."
"I've been in medicine since 1965, and I knew that was totally incorrect," he said, but younger doctors didn't, and "they started prescribing a lot of opioids."
Cattolico said one way to slow the progression of heroin abuse would be to teach doctors not to give out opioids so freely.
"We have to continue trying to stop the progression from prescription drugs to heroin by cutting down the use of prescription drugs to begin with," he said.
On a "mission" to find dope
Chance Epple's addiction to heroin began with prescription pain medication. When he was 18, he was in a car crash, and the doctor gave him meds.
"I became too dependent on the pills," the 23-year-old said. "Then there was one night in particular, where I was in a lot of pain, and I took more than I was supposed to take, and it gave me a high that I'd never felt before."
From there, he started stealing prescription pills from his parents and grandparents and buying more on the street.
About a year later, he moved on to heroin "because it was a lot cheaper."
It was an easy transition, too, because Epple said he had progressed from taking the pills to snorting them, to injecting them.
"When I started doing heroin, I immediately went right to the needle," he said.
Heroin had a hold on him for four years.
Without a job, he would call other addicts and offer to buy drugs for them — and then take a slice of their money off the top for himself. Other times, he would get the money from his parents.
"Eventually, I started hanging out with the bigger (dealers) that actually had all the heroin, and they would give me heroin for selling heroin for them," he said.
Life in the grips of heroin addiction is no life at all, Epple said. "All I did was – every day, it was a mission – waking up, trying to find more dope."
That went on for four years.
The end of his drug use came when he was on probation on a drug charge, was picked up on new charges, and was sentenced to a year in the Camp Verde jail. He called that rock-bottom.
"I lost my freedom, but it wasn't just losing my freedom," he said. "It was losing the people around me, losing my family, losing my friends."
After about a month in jail without heroin, he realized he didn't need it, and that using heroin had nearly ruined his life.
"Right there, I just decided that I wasn't going to pick up again."
Nowadays, 34 months clean, he works at a fast food restaurant as the assistant manager, has his own place, and is looking forward to the future. He'd like to get a certificate to become a welder. He would also like to help other overcome their addictions.
The heroin still reaches for his psyche at times, and he fights back.
"There's some days when my addiction gets into my head, and starts me thinking about, 'Oh, would it be okay to maybe do some black (tar heroin),' but I immediately shut it off," he said. "I go to my meetings, I call my sponsor. I have to have a solid support group around me, just in case I'm in a bad spot."
One thing he does not do, Epple said, is associate with former friends from his drug-use days – he completely cut them out of his life.
Epple said that people who have never been addicted to drugs don't "get it" and jump to conclusions like "Oh, that guy's doing drugs, he's a bad guy, we should lock him up."
"They're not looking at the facts."
"I never want to go back to that life. It is so lonely, so empty."
Not all heroin users start with prescription opioids.
Judy Statti is 53 years old and used methamphetamine and heroin for just about all her adult life.
She had been using meth for years, since she was 18, when her brother introduced her to heroin.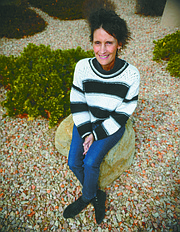 "By that time, I was already an IV user of meth, so it didn't matter what we put in the needle," she said.
She was able to function, and hold down a corporate job with Safeway while using meth.
"I was able to hold a job for many years, I was able to go to college" while high on meth.
"But with heroin, everything just went to hell," she said, and she lost her job.
Soon, she was relying on her well-to-do parents, who refused to let their daughter be homeless, to keep her off the street. She was also conning them out of money for heroin and making trips to Phoenix to buy the cheap heroin available there.
Statti's entire life revolved around the addiction.
"My life consisted of getting the money to buy the drugs, getting ahold of a dealer to buy them, and using them," she said. "That consumed my whole day."
Statti says it's easy to overdose, because the user has no way to know how potent the heroin may be. She overdosed twice.
"I was an addict that other addicts were scared to be around, because they thought, 'She's going to die,'" she said. "My dealer threatened to cut me off three different times because, he said, 'You're doing too much.'"
She said she'd tried to get clean "numerous" times, and tried eight recovery homes, but they just didn't work.
One day, she was headed back from Phoenix, where she'd met her dealer. But someone had tipped PANT – the multi-agency Partners Against Drug Trafficking task force – to her activities. PANT officers were waiting for her just inside the Yavapai county line and arrested her.
That arrest still didn't stop her. She was released on probation, and, even though she knew her probation officer was going to test her for drugs, heroin's draw was too much.
"I knew he was going to test me. Even though I knew that, I still could not not use," she said.
After her test can back positive for heroin, the probation officer gave her a choice: "Two-and-a-half years in prison, or to go to a place called Women's World (now Spectrum Healthcare) in Cottonwood," Statti said.
Statti didn't want to go and almost chose prison, almost convincing herself that she was a lost cause. But, she said, she held out a glimmer of hope – and didn't really like the idea of going to prison – so she decided to give it a shot.
This time, it worked, and she credits the facility's psychotherapy program for the success.
Five years clean, she's now working at Southwest Behavioral Services as a recovery support specialist.
"A lot of the addicts like to talk to someone who's been there," she said. "And I have."
Her brother, who got her to try heroin, died of an overdose years ago. Even knowing that heroin killed him didn't stop Statti from using.
"Every addict has a hole inside them that they're trying to fill, and they try to fill it with drug," Statti said. "I never want to go back to that life. It is so lonely, so empty."
Obama's plan to stop heroin abuse
President Barack Obama on Feb. 2 proposed $1.1 billion in his fiscal year 2017 budget to fight prescription opioid and heroin abuse.
"More Americans now die every year from drug overdoses than they do in motor vehicle crashes," a White House statement said.
The money would go toward expanding access to treatment; $920 million would be given to state governments.
"States will receive funds based on the severity of the epidemic and on the strength of their strategy to respond to it," the statement said.
About $500 million would "fund education, prevention, drug monitoring programs and law enforcement efforts to keep illegal drugs out of our communities."
Although the relationship between Obama and Congress has been notably strained, he said in his 2016 State of the Union address that "helping people who are battling prescription drug abuse and heroin abuse" was one area where bipartisan support seemed possible.
Follow Scott Orr on Twitter @AZNewsguy. Call him at 928-445-3333, ext. 2038, or 928-642-7705.
More like this story
SUBMIT FEEDBACK
Click Below to: