Paperback Writer performs hits, new lesser-known songs
Originally Published: March 10, 2016 4:21 p.m.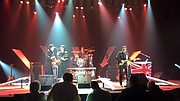 It seems like only "Yesterday" that Paperback Writer was performing in Prescott, but they've traveled "Across the Universe" to come back and perform at the Elks Theatre and Performing Arts Center, 117 E. Gurley St., on Saturday, March 12. Known as one of the top Beatles tribute bands, the show features Glen Henry III as Paul McCartney, Gene Martin as Ringo Starr, Richard Gibson as George Harrison and Chris Hilliard as John Lennon.
The band has kept its original members for as long as it has been around, said Henry, who is also the band's manager.
"All the other Beatles shows out there, they're never the same guys," Henry said, adding that it's something a lot of people notice, but can't quite put their finger on. "There's no substitute for the same four guys."
Tickets are $25 for adults and $22 for seniors and are available online at www.prescottelkstheater.com, by calling 928-777-1370 or at the door one hour prior to the performance. It's an honor to perform again at the Elks Theatre, Henry said.
Henry has an extensive musical background, but said he absolutely never thought that he'd be performing as Paul McCartney in a Beatles tribute band. Still though, it was always a dream for him to be able to play in a band like them after seeing the real group on television, he said.
The show that Paperback Writer will perform at the Elks Theatre this weekend is going to be a little bit different than the show they played last year as it will have more variety, Henry said. They play all the obvious hits, but the band likes to switch up the lesser-known songs, he said. It's easy to do as there are about 70 to 75 songs to choose from and the band is able to fit about 25 into a 90-minute show. About five or six of the songs will be different, he said.
"We want people to be delighted to hear songs that they didn't hear last time," Henry said.
Henry's favorite song to perform changes from week to week, but singing "Yesterday" never gets tiring, he said. It was McCartney's first solo song and the real Lennon's favorite, Henry added.
Paperback Writer is constantly evolving to make the show better, tighter and more authentic, Henry said. It's gotten to the point where the group is one of the top Beatles tributes in the nation, rivaling groups like Rain or Beatlemania.
"Paperback Writer has gotten elevated to that point," Henry said. "We're always trying to make things more authentic … people love it."
More like this story
SUBMIT FEEDBACK
Click Below to:
This Week's Circulars
To view money-saving ads...