'Brennan the Brave' earns his angel wings: Prescott toddler succumbs to rare, incurable disease

By
Nanci Hutson
|
HutsonNanci
Originally Published: March 10, 2016 6 a.m.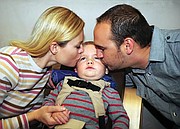 PRESCOTT – Brennan Stringer, known by family and friends as "Brennan the Brave," the 3 1/2-year-old boy diagnosed with the rare, incurable Infantile Tay-Sachs Disease, earned his "angel wings" on Friday, March 4, according to family and friends.
A private family memorial service is scheduled this week with a public memorial to be scheduled in the coming weeks.
The little boy born on July 21, 2012, was the beloved son of Royce and Holly Stringer, younger brother of Karson, 7.
"Words cannot express what a privilege it was to be Brennan's parents," the Stringers wrote on a YouCaring website page.
Brennan's death, though predicted as a common reality with this rare, genetic disorder for which there is no treatment, was "fairly sudden and our hearts are broken," his parents wrote.
"The Lord chose us to care for this precious child and now he is home," his parents wrote.
"The biggest thing we are taking away from all of this is the strength Brennan had to get through all of this," said Diane Clarke, a family friend who worked with both Royce and his mother, Valerie, at the Realty ONE Group for the last eight years. "This disease showed up in his body when he was just 6 months old. The strength of this little boy and his family; it's just amazing how that spilled over into everybody's life that was touched by them."
At 14 months old, Brennan was officially diagnosed with the genetic disorder that robs toddlers of their developmental skills as it progressively destroys nerve cells in the brain and spinal cord.
As the disease progresses, children often experience seizures, paralysis, cognitive disabilities and speech impairment, as well as vision and hearing loss. Brennan's paternal grandmother said the family considered themselves fortunate that their son did not lose his hearing or sight, but he did require a feeding tube and endured mobility issues.
Most children with this disease lose muscle function and cognitive abilities, and often do not live past age 4.
Brennan, whose name in Irish means "brave," was born a seemingly healthy, eight-pound, 11-ounce baby. At six months, Brennan's emerging development appeared to stop. He was no longer able to sit up on his own. Three months later, his physical impairments became even more acute, yet no one seemed to know the cause.
It was, though, not until he suffered a massive seizure that he underwent a week of testing at the Phoenix Children's Hospital. Brennan was found to be the only child in Arizona with this disease - and one of just 50 in the United States, family members said.
Tay-Sachs disease is very rare in the general population. It is most common in children of Ashkenazi Jewish heritage; those of Irish descent have been found to be carriers.
In Brennan's case, both of his parents were found to be carriers, something only found through blood test screenings.
Despite the dire diagnosis, Brennan's family refused to treat him as anything but a healthy, regular child. His older brother played and loved him as he would have any other sibling, friends and family said.
From the very moment of his diagnosis, Brennan's family rallied their faith to offer "amazing care, thoughtfulness and graciousness" to this child, savoring each and every moment they all shared together, Clarke said. Brennan was treated to vacation in Disneyland, and as many other childhood experiences as the family could muster despite the looming reality he likely would not celebrate his fifth birthday, Clarke said.
"There were no hurdles they didn't jump over," Clarke said, noting that any trip required special equipment from strollers to breathing machines.
Throughout Brennan's young life, the Stringer family was determined to make whatever accommodations might be required so "he would never miss out on anything," Clarke said.
The family's determination to love and care for this child, and give him the best life possible, was an inspiration to all who encountered them, Clarke said.
"The example of this young boy and his family will be with us forever and ever," Clarke said.
Education and help
The family has a YouCaring memorial site, Brennan the Brave, for donations to assist with medical and funeral expenses.
See www.youcaring.com and search 'Brennan the Brave'
The family, too, encourages education and awareness about the disease and information can be found on several Tay-Sachs websites.
Related Stories
More like this story
SUBMIT FEEDBACK
Click Below to: