Sincere connection to fire work for Wildland Fire Academy folks
PRESCOTT - Katie Markey considers herself a "lifer." The senior firefighter on the Tucson Helitack Team, Santa Catalina Ranger District, wants to make firefighting her career. In this, Markey's fifth year, the 31-year-old found herself not a participant, but an instructor at the 2016 Arizona Wildfire and Incident Management Academy (AWIMA) held this week on the Embry-Riddle Aeronautical University (ERAU) campus.
A former operating room surgical technician, Markey said that job wasn't really a good fit for her. She'd rather be outdoors doing hard work where she'd go home tired. Turns out working with chain saws, engine pumps, and carrying her body weight in equipment fit the bill.
"I got an email saying they were looking for women in the firefighter program. I applied, was chosen, and I'm still doing it," she said with a grin. "It's been an avenue for most of my personal growth – self-esteem, independence and confidence. It pushes me past my comfort limits."
Stepping beyond that comfort zone is one reason she's helping teach the S-130/190 Firefighter Training/Introduction to Wildland Fire Behavior class – to learn if she can really do it. An instructor from the Women in Fire Boot Camp she went through five years ago in Mesa called to see if she would attend the Academy as an instructor, teaching such things as risk management, standard firefighting orders, watch out situations, and something called LCES – Lookout, Communication, Escape Route and Safety Zones – all the necessary things rookies need to know.
"I'm honored to be a part of this. There's a lot of experience here, and great team work," Markey said Tuesday afternoon, adding that her job satisfies two work place conditions. "As long as I'm still learning and still having fun, I'll still do it. I think I'm a lifer."
AWIMA attracts highly qualified instructors and students from the Southwest and the nation. This year 600 of the 745 participants are from Arizona, the rest come from 27 other states, said Public Affairs Officer Loretta Benavidez, who is with Lincoln National Forest, Alamogordo, New Mexico. The seven-day program offers instruction and skills in such areas as wildland fire investigation, incident command management, prescribed fire implementation, working with news media, and also for those wanting to find out if fighting wildland fires is for them.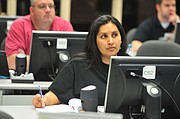 Erica Enjady, 39, also desires a long-term career in the outdoors – in her case, forestry and federal land management for tribal land. A member of the Mescalero Apache Tribe, Enjady oversees timber sales, fuels management, budgets, compliance issues, and all activities on the Mescalero Apache Reservation.
When Enjady graduated high school, she had no idea what she wanted to do. An opportunity to intern in the Forestry Cooperative Education program with the Mescalero Agency brought her into the fire-fighting world and forest management.
"I fell in love with it, and I've stayed in the field all this time," she said.
She earned a bachelor's degree in forestry from Northern Arizona University, and had been waiting for a course in public information for several years in New Mexico before enrolling in the news media course in this year's Academy.
"We have some top-notch information officers working here at the Academy. I do public information on the whole unit, the reservation. My experience has been mostly on initial attack fires. I shoot out information by email and on the Mescalero Agency Facebook page," Enjady said.
When fires grow larger and Type 3 teams arrive, "I take off my PIO (public information officer) hat and step back into my forestry role," she said.
The Academy surprised her with its size and the way it is organized to run as if it is a fire incident with morning briefings every day.
"It's very impressive," Enjady said. "I can see how it would benefit rookies to get a glimpse of the organization in an incident command system that's present in a fire incident. I'm thinking this is a place I'd like to send some of my staff."
On Thursday, March 10, the Embry-Riddle campus will be open for public tours throughout the day and a visit with AWIMA personnel. A morning briefing takes place at 7:15 a.m. and also is open to the public. All visitors need to check in at Building 16 – just follow the signs. For more information, call 928-777-FIRE (777-3473).
More like this story
SUBMIT FEEDBACK
Click Below to:
This Week's Circulars
To view money-saving ads...