Whiskey Off-Road fresh singletrack options, new Pro Fat Tire Crit course for 2016
Originally Published: March 8, 2016 6:02 a.m.
Document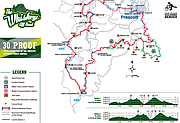 Epic Rides has announced new singletrack trail options for the Whiskey Off-Road backcountry mountain bike event, April 29-May 1, plus a new Pro Fat Tire Criterium course that's spectator friendly in the heart of downtown Prescott.
Building on the all-inclusive nature of each Epic Rides Off-Road Series event, the new routes cater to both non-competitive and competitive participants, according to a news release. To do so, the 30 Proof and 50 Proof events will provide riders two opportunities to choose their own adventure while navigating the course.
Participants will enjoy new singletrack options including sections of the recently completed Prescott Circle Trail, a 50-mile multi-use trail that encircles the City of Prescott.
The 2016 Whiskey Off-Road will head east out of town and up Old Senator Highway, where riders will be presented with a choice: those gunning for a podium finish can make a right on the buff fast descending Feldmeier Trail en route to Wolverton Trail, or for more sustained singletrack fun, riders can opt to ride a segment of the Prescott Circle Trail, including a fun, flowing singletrack descent on 396 Trail.
A perk for campers, both routes pass through the White Spar Campground making for some terrific spectating. Additionally, the Pro Men's and Women's 50 Proof events on Sunday will also pass through the campground, allowing campers to see all the action a stone's throw from their campsite.
The Whiskey Off-Road also features new roads in the Pro Fat Tire Crit course on Friday evening, April 29. Using an hourglass shape in the heart of downtown Prescott, the new course is very spectator friendly with an expanded Sierra Nevada Brewing beer garden so spectators can watch five of the eight straightaways and turns connecting them from one location.
The course still uses the legendary and painful Union Street climb, and additional spectating can be enjoyed at the Barley Hound gastropub on Cortez Street. For those cheering on friends and family members in the 15 Proof Fun Ride on Friday afternoon, the Fat Tire Crit shares the same start/finish line enabling spectators to catch all the action from one convenient location.
"We're really excited about all the new experiences available through the 13th annual Whiskey Off-Road," said Todd Sadow, Epic Rides president. "From being able to choose between new singletrack options to catching more action from some of the world's greatest professional mountain bike talent, both participants and spectators are sure to be highly entertained during Whiskey weekend."
---
Registration for the 2016 Whiskey Off-Road is open and, at the time of this release March 8, approaching two-thirds capacity. The event is expected to fill early; Epic Rides encourages participants to register soon in order to guarantee their spot at the start line.
For more information and to register, visit www.epicrides.com/rd/rd.php?dId=3062.
Helpful facts
• Feldmeier Trail - This route makes the 50 Proof route 48 miles long with 6,410 feet of climbing and the 30 Proof route 31 miles long with 4,640 feet of climbing.
• Prescott Circle Trail - Utilizing the 396 Trail, this route adds six miles to both courses; the 50 Proof route is 54 miles long with 6,670 feet of climbing and the 30 Proof route is 37 miles long with 4,900 feet of climbing.
• Pending the option each rider selects, the 2016 routes offer 400 to 600 feet more of climbing and 2 to 6 more miles of singletrack over the 2015 routes.
---
Epic Rides has become world famous for producing events that celebrate the many positive aspects of mountain biking. Events such as the 24 Hours in the Old Pueblo Presented by Tucson Medical Center, Tour of the White Mountains, the Whiskey Off-Road, the Grand Junction Off-Road and the newly announced Carson City Off-Road are popular with participants because they offer challenging, fun riding and emphasize the joy and health benefits inherent in the sport.
For more information, visit www.Epicrides.com.
Watch Wednesday's Courier and dCourier.com for the 15 and 50 Proof course maps!
Related Stories
More like this story
SUBMIT FEEDBACK
Click Below to: