Highest ranking officer laid to rest in Prescott National Cemetery
Retired brigadier general honored with 'fly-over,' honors

By
Nanci Hutson
|
HutsonNanci
Originally Published: March 2, 2016 11:06 a.m.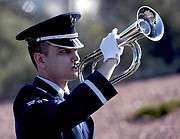 Photo Gallery
General Duane Harold "Leif" Erickson funeral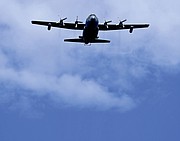 PRESCOTT - Across a sun-dappled cerulean sky on Tuesday morning, March 1, a four-propeller, Vietnam-era cargo plane captured the attention of more than 60 friends and family gathered at the Prescott National Cemetery to pay final tribute to U.S. Air Force Brigadier General Duane Harold "Leif" Erickson.
A decorated career "military hero" who in Vietnam piloted a similar plane, the 84-year-old retired officer died on Feb. 22.
At the cemetery, Erickson was honored with not only the fly-over arranged by his son, Stephen, a U.S. Air Force colonel who serves at the Pentagon, but also with a three-volley gun salute, the presentation of an American flag from President Barack Obama and a bugle performance of "Taps." The flag was presented to his wife, Maureen, who affectionately greeted friends, family and local veteran leaders who attended the graveside service a day after his funeral.
A farm boy from Iowa, Erickson was fortunate to have strong mentors as a boy who helped him plot a path in life that took him straight to the prestigious United States Military Academy at West Point, New York, proclaimed his son, Stephen, during the service that concluded with the acceptance of his ashes in the cemetery's Columbarium.
Erickson is also survived by another son, Craig, four grandchildren, one great-grandson, a sister and several nieces and nephews. He was predeceased by his parents, a sister and a granddaughter.
Cemetery officials said Erickson is the highest ranking officer laid to rest in this sacred space located off Highway 69.
Always certain he wanted to be a pilot, Stephen said his father waited until his graduation in 1954 to proclaim his intentions to become a commissioned officer in the Air Force. In addition to his academy graduation, Erickson also graduated from the Armed Forces Staff College in 1967 and the Air War College in 1970.
His prestigious, 30-year career included numerous leadership positions, including wing command in Vietnam and as commander of the U.S. Air Forces Azores, according to his obituary. He served at the Pentagon and NATO headquarters in Brussels, Belgium.
"He flew everywhere," his son recalled. "But he never forgot what he was flying over. He believed in doing something for his country."
As a command pilot, Erickson flew 85 missions for more than 242 combat hours and 8,000 flying hours.
"I'm extremely proud of him, and proud of the opportunities he gave me," Stephen said.
Retired U.S. Air Force Reserves Major General Ralph Oates was one of Erickson's co-pilots who, during the graveside service, recalled the piloting acumen of his comrade, but not before sharing that his beloved friend was not without his "wild side" that he got to witness up close.
An experienced pilot, Oates recalled a harrowing flight with Erickson at the helm. At times, Oates said Erickson's maneuvers were such that he "felt closer to God" than he might have ever anticipated.
Oates choked up when he recalled getting his promotion to major general after getting called to serve in Desert Shield and Desert Storm. Upon the announcement, Oates said he got a box in the mail. Erickson had mailed him his general's star to be used for his pinning ceremony.
"That was the type of man he was," Oates said.
In retirement, Erickson did not stay idle.
He and his wife enjoyed traveling, but when he was in Prescott he made time to support the local school district's Junior ROTC program at Prescott High School.
Not only did Erickson like to come and share "war stories" with students, but also he volunteered his time and financial support that enabled the decade-old program to be a success, said retired U.S. Air Force Reserves Colonel Denny Peeples, the program advisor. Eight members of the Junior ROTC program participated in Tuesday's ceremony.
"I thank his family for all he did for us, and inspiring this next generation," Peeples said.
In closing, Grace Bible Fellowship Pastor Tom Perconti described Erickson as a man who embodied the Christian ideals of love and care for others.
"We know Leif is home in heaven with his Savior," Perconti declared.
More like this story
SUBMIT FEEDBACK
Click Below to: