Chino Valley track and field benefits from multi-sport philosophy
2016 Spring Sports Previews
ED WISNESKI
Originally Published: March 1, 2016 4:18 p.m.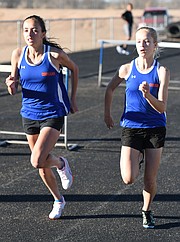 Chino Valley High athletic director Pete Jelovic encourages student-athlete participation in more than one sport. The Cougars' track and field squads are benefiting from that philosophy.
Division V all-state soccer standout Katie Farnsworth made an auspicious debut last spring as a sophomore in her first season on the track team. She ran on the 4x100-meter relay team that set a school record (51.29 seconds) while finishing fourth at the AIA Division III State Track & Field Championships, where Chino Valley tied for 16th out of 55 teams.

Farnsworth is the only individual state qualifier (300-meter hurdles) returning from 2015. She also recorded the Cougars' top times in the 400-meter (1:06.14) and 800m (2:38.14) events as well as in the 100m hurdles (:20.25).
"Katie is willing to run in any event," says Marc Metz, who enters his 10th season as Chino Valley's head coach. "She's open to whatever is good for the team. She has great desire to do well in track. Being on the team helped her speed and endurance in soccer when she's running throughout the game."
Farnsworth led the Cougars in goals (24) last fall when the Cougars qualified for the state soccer tournament for the second consecutive season. Farnsworth's teammate, Lauren Foster, will join her on the track team this spring. The daughter of Chino Valley girls' soccer and wrestling coach Allen Foster, Lauren was selected Division V first team all-state and player-of-the-year in Section II as a freshman when she led the Cougars in points.
"Lauren is similar to Katie," Metz says. "They're both quick and fast. They have a great work ethic. Lauren can compete in a lot of different events. She'll do whatever you ask. They run together in practice and bring out the best in each other."
The Cougars have lost three athletes who scored in the 2015 state championships. Sprinter extraordinaire Destiney Desalvo placed third in the 100m, fourth in the 200m races, and ran on the 4x100m relay team. Jenny Ballard scored a point for the Cougars with her eighth-place finish in the discus. Both have graduated.
Kassidy Hampton, another member of the 4x100m relay quartet, qualified for state in the 100m race and 300m hurdles, but she has transferred to a school in the Valley.
The anchor of the 4x100m team, junior Sandra Falls, will forgo that event because of nagging shin splints but will try to contribute to the team in the 400m and 800m this spring.
Sophomore Mya Pullins was an alternate on the Cougars' record-setting 4x100m team as a freshman and could take over one of the spots on both the 4x100m and 4x400m relays. She had the second-best time behind Farnsworth in both the 400m (1:07.02) and 800m (2:52) last season and also ran the 200.
Another sophomore, Becca Tupper, is the Cougars' top distance threat. Last season she had the team's top time in the 3200m (13:43.32) and was second-best in the 1600m (6:18.15).
"Becca was one of our top two runners in cross-country," says Metz, who also coaches that fall sport. "She really stepped it up. I see her doing the same thing in the track season.
"I think our strength this year will be in the mid-distance events (400m, 800m)," Metz added.
"We don't have any experienced girls in the field events. It will be hard to replace Destiney [Desalvo] and Kassidy [Hampton].
"Altogether we have 23 girls, a lot of them newcomers learning what it takes to be on a track team," Metz adds. "I'm encouraged by their work ethic. They're improving. We'll see how the season goes."
TWO CAPTAINS
Two football captains – seniors Michael Brillhart and Jerad Chavez – are returning leaders for the boys' track and field squad, which did not score at last year's state meet.
Sophomore Colton Sandberg (hurdles, jumps) and junior Jose Trujillo (throws) also played varsity football last fall.
Brillhart ran the Cougars' best times in the 110-meter (:17.62) and 300-meter (:47.20) hurdles. This year he will focus on the 110m hurdles, 4x100m relay, and 200m events.
"Michael really wants to make it to state in the 110 hurdles," Metz says. "For the last two years, he just missed qualifying. He worked on three-stepping [a technique in hurdling] during the offseason. This will help him do much better this year."
Chavez, who was selected to the 2015 All-Courier football team, led the Cougars in rushing, scoring, tackles, and interceptions last fall. In track, he ran sprints, anchored the 4x100m relay, and was a long-jumper. Chavez had the team's best time in the 200m (25.83) last spring and three of the top six times in the 100m.
"Jerad is enthusiastic and very coachable," Metz says. "He's a great guy to have on the team."
Metz is excited about two all-state starters on the Cougars' state championship boys' soccer team joining the track squad for the first time in senior Tyran Payne and junior Walter Soto. Payne's brother, Alex, has also come out.
Chino Valley Track and Field 2016 Schedule
DATE | OPPONENT | TIME
Mar. 2 at Wickenburg 3 p.m.
Mar. 5 at Skydome Classic 10:30 a.m.
(Flagstaff)
Mar. 19 at Bourgade Invite 8 a.m.
(Phoenix)
Mar. 23 at Sedona Friend. Meet 2 p.m.
Mar. 31 at Prescott Multi 3:30 p.m.
Apr. 1 at Scottsdale classic 6 p.m.
Apr. 8 at Mingus Invitational 2 p.m.
Apr. 12 at ALA Invitational 2 p.m.
(Phoenix)
Apr. 15 at Wrangler invite 3 p.m.
(Wickenburg)
Apr. 19 at Sedona Invitational 2 p.m.
Apr. 22 at Yavapai County 2:30 p.m.
Championship (at BMHS)
Apr. 26 at Last Knight Qualifier TBA
(at Avondale Westview)
"They all are really fast," Metz says. "They bring a winning attitude from soccer."
Two wrestlers who qualified for the state tournament in February – seniors David Lemcke and Juan Sanchez – participated on the track team last spring. Lemke, who has a 4.0 grade point average, runs in the distance events (800m, 1600m, 3200m) and is part of the 4x800m relay team. Sanchez specializes in the throws.
In addition to the multi-sport athletes competing this spring, Metz has high hopes for junior Gavin Thompson, a transfer from Peoria, who is expected to compete in the 100m, 200m, relays, high jump, and possibly the long jump.
"He's fast and really loves track," Metz says. "I can't wait to see how he fares in meets."
Metz also has high hopes for sophomore distance runner Brenden Tupper (1600m, 3200m), who ran with senior McKenzie Nez, the Cougars' only state qualifier last year (3200m).
"Brenden had a great offseason," Metz says. "He ran a lot of miles in the winter. He's very goal-driven. He has studied how some of our past great distance runners such as three-time state champion John Killian performed as sophomores and is striving to progress like them."
Versatile junior Christian Herb will fill a lot of spots in the field events. Last spring he had the team's best distance in the triple jump and fourth longest in the discus. Metz looks for junior Taylor Blakley to be a strong contributor in the throws.
Forty boys showed up for the Cougars' first track and field practice, one of the largest groups in the past decade that Metz has served as head coach.
"This is a big team," Metz says. "I'm really excited."
The Cougars open the season on Wednesday, March 2, at Wickenburg.
More like this story
SUBMIT FEEDBACK
Click Below to:
This Week's Circulars
To view money-saving ads...