World's Oldest Rodeo fun for everyone

By
Les Bowen
|
NewsyLesBowen
Originally Published: June 30, 2016 10:07 p.m.
Updated as of Friday, July 1, 2016 2:50 PM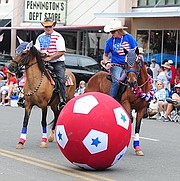 Essentials
Rodeo Dance: Th, Fri & Sat - 8 p.m. to 1 a.m.
Parade: Sat - 9 a.m.
Boot Race: Directly after parade - Whiskey Row
Arts & Craft Show: Sat, Sun & Mon - 9 to 4.
Pancake Breakfast: Saturday - 6 to 10 a.m.
There's a lot more to Prescott's annual rodeo than what happens in the arena, with something happening every day through Monday, July 4.
The rodeo dances are 8 p.m. to 1 a.m. Thursday, Friday and Saturday, featuring Mesa's Zona Road. The country band started in 2011 and includes Kody Herring on guitar and lead vocals, Keith Hammerl on bass and vocals, and Andrew Keiser on drums.
The dance is at the BMO Harris Bank parking lot, 303 N. Montezuma St., Prescott. Admission is $5.
Friday events kick off at 9 a.m. with the 75th annual Kiwanis Club of Prescott Kiddie Parade around the Yavapai County Courthouse Plaza.
Children 12 and younger and pets under 300 pounds will compete for 21 award categories. The top winners in each category will be invited to ride on the Kiwanis float the next day in the rodeo parade.
The Prescott Frontier Days Parade starts at 9 a.m. Saturday, with a longer route around the courthouse plaza.
Parade lineup is on East Willis Street. The parade will head south on Cortez Street, then west on Carleton Street, with another run past the courthouse plaza on Montezuma Street, before ending on East Sheldon Street.
This year's parade theme is "Let your voice be heard … Vote, it's the American Way!"
The Prescott Frontier Days Parade is Arizona's second-largest parade, and organizers expect more than 40,000 attendees.
Many of them stick around for the three-day Rodeo Days Fine Arts and Crafts Show on the Yavapai County Courthouse Plaza, organized by Prescott Downtown Partnership.
Organizers require the hundreds of vendors and performers to display and sell only handmade items "reflecting design and execution that is primarily the product of the skills of the artist or crafter." Show hours are 9 a.m. to 5 p.m. Saturday and Sunday, and 9 a.m. to 4 p.m. Monday, though vendors are invited to stay open later.
While Zona Road will continue at the bank parking lot, there's a second dance on Saturday night.
The Whiskey Row Street Dance goes from 5 p.m. (immediately after the Whiskey Row Boot Race, which follows the parade) to midnight, with barbecue, beer, live music and dancing. Admission is $5.
Bands include KDMA at 6 p.m., Funk FREQuency at 8 p.m. and Trial by Fire at 10 p.m.
On Sunday morning, the rodeo arena converts to a church at 8:30 a.m.
And, First Congregational Church's 60th annual Pancake Breakfast will be in the church's parking lot at 216 E. Gurley St. Proceeds go to the Prescott Community Cupboard food bank. Cost is $6 per person, children under 10 get in free.
The holiday weekend wraps up with Prescott's Fourth of July celebration and fireworks.
The celebration moves back to downtown Prescott this year at the Mile High Middle School football field. Entry is on West Goodwin Street between Granite and McCormick streets.
Gates open at noon for 12 amusement rides from giant water slides to a mechanical bull at the celebration.
Adults can enjoy a selection of beers and margaritas.
The day's band lineup includes Prescott's own young musicians of The Cross-Eyed Possum at 1 p.m., KDMA at 3 p.m., the Chuck Hall Band from Phoenix at 5 p.m. and wrapping up with the local sound of The CheekTones at 7 p.m.
In event organizer Steve Gottlieb's style, food for the day will be for sale from a selection of regional and statewide food trucks.
Entry for the Fourth of July celebration is $5, with an unlimited rides wristband available for $10.
At 9 p.m., attention will shift to the north, for a fireworks show launched from the top level of the parking garage on Granite Street.
More like this story
SUBMIT FEEDBACK
Click Below to: