Stage Too's 'Complete Works of Williams Shakespeare, Abridged'
Originally Published: June 30, 2016 8:10 p.m.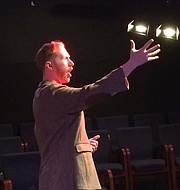 Side-splittingly funny" is not normally a term applied to a Shakespeare play. Oh, he had his comedic moments, but nothing like this show.
It was first performed by the three writers, Adam Long, Daniel Singer and Jess Winfield, in 1987, to critical acclaim in the UK.
"I've always wanted to do it, since I saw it," director Bruce Lanning said. "I saw it in London about 10 years ago, and I really liked it."
In this show, just three actors, playing actors, perform all 37 Shakespeare plays, in about 90 minutes. There's no fourth wall, either, and the audience is part of the action.
Although the play was written for three men (and derives some jokes from that) Lanning's cast of one man and two women works just as well, for different reasons.
Will Larson, a "pre-eminent expert" on the Bard, (sort of) leads the other two actors, Bliss Streetman and Amber Bosworth, through an interpretation of the plays.
Larson plays an ego-driven character who speaks in a "scholarly, lofty voice," he said, as he "lords his pre-eminence over the others."
The first play up is "Romeo and Juliet." Streetman interprets Romeo as a forlorn surfer dude to hilarious effect.
"I was kind of inspired by Leonardo DiCaprio, because he does the famous Baz Luhrmann version of Romeo, and he's always reminded me of this surfer kid I grew up with in Southern California," she said. "I find it to be pretty fun to do."
After spending perhaps 20 minutes on this one play, though, Streetman notes that the show will be 12 hours long if they keep up that pace, and the parodies become shorter and shorter.
"Titus Andronicus" is parodied as a cooking show. Bosworth, who plays the mutilated Lavinia, likes this part the best.
"It's my favorite. I have to be very expressive, because I can't use my tongue or my hands," she said, "so I get to be a little more expressive that way."
To save time, the cast performs all 16 of the Shakespeare comedies as one play, because "Shakespeare was a formula writer – once he found a device that worked, he used it over and over and over again."
The cast wraps up the first act by coming to the realization that they've failed to perform "Hamlet," and that, followed by a backward reading of the play, makes up the second act.
"They're exhausted when they get through it," Lanning said with a chuckle.
–
"The Complete Works of Williams Shakespeare, Abridged (Revised)," directed by Bruce Lanning, is one of the three plays that make up the Prescott Center for the Arts' Summer Repertory Series.
At Stage Too, accessible from the alley behind the PCA at the corner of Marina and Willis Streets.
Shakespeare Abridged runs July 8, 16, 29, and Aug. 6 at 7:30 p.m.; July 24 and Aug. 14 at 2 p.m.
All tickets are $15 plus a $2 handling fee. Buy all three shows in the series and get $5 off. Tickets are available at the PCA Gallery, by phone at 928-445-3286, or online at www.PCA-AZ.net.
More like this story
SUBMIT FEEDBACK
Click Below to:
This Week's Circulars
To view money-saving ads...