Remembering the Yarnell Hill wildfire tragedy (VIDEO)
Memorial service in Yarnell moved to church because of rain
Originally Published: June 30, 2016 6:22 a.m.
Updated as of Thursday, June 30, 2016 12:10 PM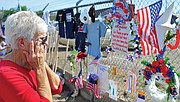 PRESCOTT – Three years have passed now since family and community members heard the devastating news: That 19 members of the Granite Mountain Hotshot crew had died fighting the Yarnell Hill Fire.
Remembering the fallen Hotshots
Thursday, June 30, marks three years since the devastating Yarnell Hill Fire, during which 19 Granite Mountain Hotshots died, and 127 Yarnell-area homes were destroyed.
There will be no formal ceremony in Prescott. However, flags will fly at half-staff Thursday, with a moment of silence at 4:42 p.m., following 19 tolls of the courthouse bell.
Events that have been planned include:
• UPDATE: The community of Yarnell will have a memorial at 4 p.m. However, rain has been predicted for this afternoon, so the Third Anniversary Memorial Service of the Yarnell Hill Fire will take place at the Yarnell Community Presbyterian Church, 16455 Tabletop Way. Participants, are asked to arrive between 3:30 and 3:40. (It previously was to be held at Yarnell Hill Fire Memorial Park, 22556 S. Highway 89.)
The memorial in Yarnell will include brief comments from firefighting personnel, residents and the family of one of the fallen Hotshots. Several local musicians will perform. The service will conclude with the reading of the names of each fallen member of the Granite Mountain Interagency Hotshot crew, and a moment of silence at 4:42 p.m. – the official time of the Hotshots' passing.
• Prescott United Methodist Church, Agape Hall, 505 W. Gurley St., Prescott at 5 p.m.
• A special event radio operation, by the Yavapai Amateur Radio Club using call sign N7GMH, will be broadcast from the Jeep Posse building in Pioneer Park, from approximately 9 a.m. to 5 p.m.
• The band Road 1 South has locked down its YouTube page except for a live performance of "19 Angels," a musical tribute to the Granite Mountain Hotshots by John Wurtz. Chris Russo accompanies on guitar. A studio version of the song, with video, will be posted Thursday.
Based on reports that came out in the months following the tragedy, the Hotshot crew had worked most of the day trying to control the erratic fire. By late afternoon, they were headed to what they believed to be a safe spot when the fire overtook them.
This is a brief timeline of the events leading up to and including the moment of Hotshots' deployment of their fire shelters:
Friday, June 28
• 5 p.m. – Thunderstorms produce multiple lightning strikes southwest of Prescott. Seven fires reportedly were discovered in the area that afternoon, including one west of Yarnell. Statewide, 37 active fire were burning.
• 5:36 p.m. – An air tanker previously assigned to the nearly-extinguished Doce Fire in Prescott is directed to Yarnell to report on the status of the newly named Yarnell Hill Fire. The pilot describes the fire as "in a boulder field, has no vehicular access, and shows very little smoke."
• 7:40 p.m. – Full suppression efforts are planned for the next morning.
Saturday, June 29
• Two single-engine air tankers arrive in Yarnell by mid-morning and drop fire retardant on the fire's south and west flanks.
• 12:25 p.m. – The air tankers depart Yarnell, after reporting that the south and west flanks of the fire are "secure."
• 4 p.m. – Winds increase, and the fire's incident command requests that the tankers return to the Yarnell Hill Fire. One does, but the other stays in Wickenburg for potential new fires from active lighting across central Arizona.
• 5:42 p.m. – A DC-10 – termed a Very Large Air Tanker (VLAT) – is made available for use in Yarnell, but incident command reportedly declines the large tanker, "based on fire conditions."
• 7:38 p.m. – The fire has grown to more than 100 acres.
• 8 p.m. – Members of the Granite Mountain Hotshot crew receive orders to report to their Prescott station by 5:30 a.m. Sunday. They set out in their buggies for Yarnell by 6 a.m.
Sunday, June 30
• 7 a.m. - After attending a fire briefing at the Yarnell Fire Station, the Granite Mountain crew members drive through Yarnell and discuss the purportedly "bomb-proof" safety zone at the nearby Boulder Springs Ranch.
• 11 a.m. – The fire had grown to 1,500 acres, according to "My Lost Brothers," the recently released book by lone Granite Mountain Hotshot survivor Brendan McDonough.
• Noon – McDonough takes his place as Granite Mountain's lookout, while the other Hotshot crew members plan to construct a line directly along the fire's edge.
• Between 3:30 and 3:45 p.m. - Winds pick up, and the fire becomes "very active." An immediate evacuation for Yarnell residents is requested of the Yavapai County Sheriff's Office.
• 3:50 p.m. – Granite Mountain Superintendent Eric Marsh reports that the winds are starting to get "squirrely" up on the ridge.
• 3:55 p.m. – After the fire overtakes McDonough's "trigger point," a Blue Ridge Hotshot crew member picks him up near his lookout site, and drops him off at the Granite Mountain vehicles. McDonough and Blue Ridge Hotshots begin moving the Granite Mountain trucks.
• 4:04 p.m. – Marsh reports that the crew is "going to make our way to our escape route," prompting the Blue Ridge superintendent to radio back, "You guys are in the black (burned-out area), right?" Marsh's response: "Yeah, we're picking our way through the black … going out toward the ranch."
• 4:30 p.m. – The fire pushes into the communities of Gen Ilah and Yarnell – ultimately destroying more than 120 homes.
• 4:39 p.m. – A static-filled transmission is heard on radio communications: "Breaking in on Arizona 16, Granite Mountain Hotshots, we are in front of a flaming front." Only able to understand fragments of the communications and still assuming that the Granite Mountain crew is in a safe area, the aerial supervision staffer initially believes the transmission is from one of the units protecting buildings in Yarnell.
• Marsh comes back on the radio, urgently clarifying: "Yeah, I'm here with the Granite Mountain Hotshots. Our escape route has been cut off. We are preparing a deployment site and we are burning out around ourselves in the brush and I'll give you a call when we are under the sh-shelters."
• Intending to send a VLAT, an aerial supervision staffer reportedly makes seven attempts during the next four minutes to reach the Granite Mountain crew members to determine their location, but is unable to establish contact. "There is no more contact with the Granite Mountain Interagency Hotshot Crew," the incident report states.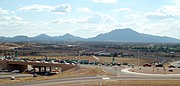 • 6:10 p.m. – A helicopter pilot spots the Hotshots' shelters approximately a mile south-southeast of their last known location.
• 6:35 p.m. – Landing 500 yards away, a DPS officer/paramedic hikes to the site and confirms that none of the men survived. The location was about 600 yards west of the Boulder Springs Ranch, the spot originally identified as a "bomb-proof" safe zone.
Tuesday, July 9
• After more than a week of grieving, thousands come together for a memorial service at Tim's Toyota Center in Prescott Valley to pay tribute to the 19 fallen Hotshots.
September 23, 2013
• The Arizona State Forestry Department releases a Serious Accident Investigation Report that concludes:
"The Hotshots were traveling through an unburned area toward a safety zone when a rapidly advancing fire of great intensity overtook them. The fire's extreme speed of 10 to 12 miles per hour eliminated any opportunity for the crew to reach the safety zone or return up to the canyon rim."
More like this story
SUBMIT FEEDBACK
Click Below to:
This Week's Circulars
To view money-saving ads...