Chew On This: Authentic Thai restaurant, Thaifoon

By
Max Efrein
|
mefrein
Originally Published: June 30, 2016 7:56 p.m.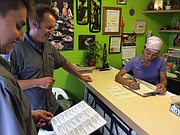 Essentials
What: Thaifoon, Authentic Thai restaurant
Where: 432 W. Goodwin St., Prescott
Call: 928-445-8199
It was the middle of the afternoon, pouring rain, on a Tuesday, and Thaifoon was still flowing with customers like it was noon on a sunny Friday.
The authentic Thai restaurant is a Prescott staple.
First opened in the late 1990s, it has nearly remained constant to this day, serving as a favorite among many locals.
Current owner and operator Pan Peterson took it over from the original owner in 2010 and essentially kept the same menu and friendly atmosphere.
"[People] just love the way it is," Pan said. "It's about treating the customer the way you want to be treated."
Primarily serving as a take-out restaurant, Thaifoon attracts a lot of customers on the move during their busy day or those looking to take something back to their family as the day winds down.

"It's quick, easy, small, not a big deal," said Mark Parent, who was picking up a couple entrees with his son Steven. "We can eat lunch, get in, get out and get a healthy meal."
Little more than a hole in the wall, the tiny kitchen packs a tasty punch.
Like many Thai restaurants, its Pad Thai is a fan favorite, Pan said. The option with peanut sauce consists of sautéed rice noodles with carrots, cauliflower, zucchini and cabbage. It's then topped with roasted peanuts and a choice of chicken breast, veggies or organic tofu for $10.99. Adding pork, shrimp or steak is 99 cents extra.
Though Thaifoon was one of the first, Thai restaurants have been trending in the Prescott area, with four near the downtown area alone.
Pan said she believes its popularity has grown because of its healthy nature and emphasis on fresh, powerful ingredients.
"Thai food is not fattening and it has a lot of herbs, spices and curries," Pan said.
No matter how busy she seems to get, Pan said she does not intend on ever expanding her space or opening a second location.
"People are greedy," Pan said. "I stick to what I got, I'm happy where I am."
Pan does much of the cooking herself and only has one employee to help her out when she needs it. She was raised in Thailand and has been cooking Thai food since she was 8 years old.
An important thing to keep in mind when visiting this restaurant is that it only accepts cash. It has always been that way and will continue to be, Pan said.
SUBMIT FEEDBACK
Click Below to:
More like this story