Camp Verde drops Chino Valley to open All-Stars tourney in Cottonwood
Chino Valley to face Williams All-Stars today

Originally Published: June 30, 2016 10:51 p.m.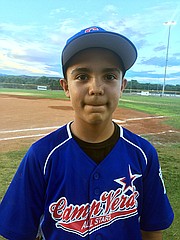 COTTONWOOD — Gary Ortega slammed two home runs, collected six RBIs and the Camp Verde All-Stars pounded out 13 hits offensively in a 12-6 win over the Chino Valley All-Stars on Thursday afternoon.
Ortega was a perfect 4 for 4, scored three runs and added a double in his team's first-round victory at the District 10 Majors All-Stars Tournament.
"I felt down at first [trailing 4-0], but when I started hitting it, I felt good," Ortega said. "This [win] takes pressure off us and our bats, because we still have a game to play with if we lose."
Chino Valley jumped out to a 4-0 lead in the bottom of the first inning after Jaxton Mortensen led off the game with a triple and scored on an error.
Jayden Smith singled, stole a base and scored after Dakota McMains doubled to right field, making it 2-0. McMains would score on a Collin Knight single. Knight later scored on a groundout by Trenton Legler to make it 4-0.
That would be it for Chino Valley's offensive fireworks, however, as Camp Verde starting pitcher Easton Bryant settled in.
Bryant pitched a complete game, allowing the six runs on seven hits while recording four strikeouts in six innings pitched.
"Easton Bryant pitched a heck of a game for us today. I'm proud of him," Camp Verde skipper Jon Frisch said.
Trailing 6-4 in the top of the fourth, Ortega made a diving play in center field to start a triple play, gunning down two runners at third base to swing momentum to his team's dugout.
Ortega followed up the defensive gem with a three-run homer in the bottom half of the fourth to give Camp Verde a 7-6 lead and they never trailed from that point on.
"We were down 4-0, and the boys rallied back, they got a few hits and it woke them up a bit," Frisch said. "Gary Ortega's home runs brought us back in the game. We didn't stop there, and kept hitting."
Chino Valley head coach Jim Felton mentioned in an interview Wednesday for the tournament preview that it would be important for his kids to "keep their heads up" if things went wrong.
But, when things went wrong Thursday, some of the players from Chino Valley struggled to stay positive.
"All of our older kids need to hold it together and not have bad attitudes when something goes wrong," Felton said. "If we do that again [tomorrow], we'll have the same outcome."
Other standouts offensively for Camp Verde included Corey Johnson, who was 2 for 4 with two runs scored, while Bryant was 3 for 4 with three runs scored and two RBIs.
NEXT UP
With the win Thursday, Camp Verde (1-0) advances to the second round of the District 10 Majors All-Stars Tournament and will play the Verde Valley All-Stars.
Verde Valley earned an 18-2 victory over the Williams All-Stars in their first-round game Thursday evening.
Frisch said he will send Peyton Kelley to the mound against Verde Valley. First pitch is scheduled for 8 p.m. at Riverfront Park in Cottonwood.
Since the tournament is double-elimination format, Chino Valley (0-1) will drop into the loser's bracket and face Williams today.
Felton will send McMains to the mound against Williams, with a first pitch scheduled for 5:30 p.m.
OTHER SCORES
The Prescott All-Stars (1-0) easily handled the Bagdad All-Stars, 18-0, advancing to the tournament quarterfinals.
Prescott will face the Wickenburg All-Stars, which rallied to score five runs in the sixth inning against the Prescott Valley All-Stars in a 5-1 win.
First pitch today for the Prescott-Wickenburg matchup is set for 8 p.m. Prescott Valley will face Bagdad at 5:30 p.m.
Brian M. Bergner Jr. is a sports writer and columnist for The Daily Courier. Follow him on Twitter at @SportsWriter52 or reach him by phone at 928-445-3333, ext. 1106.
More like this story
SUBMIT FEEDBACK
Click Below to: