Path to Little League World Series begins Thursday night

Originally Published: June 29, 2016 6:37 p.m.
COTTONWOOD – With their respective regular seasons and city-league championships behind them, young baseball players across the country can start dreaming this weekend of the Little League World Series.
For northern Arizona kids, that path begins Thursday night as the District 10 Majors All-Stars Tournament (ages 10 to 12) opens first-round action under the lights at Riverfront Sports Complex in Cottonwood.
Teams from Prescott, Prescott Valley, Chino Valley, Bagdad, Verde Valley, Williams, Camp Verde and Wickenburg will converge for a chance to qualify for the Arizona Little League State Majors Tournament.
If a team from District 10 is lucky enough to win a state title, they qualify for a chance at a regional title, which leads to Williamsport, Pennsylvania in August.
PRESCOTT ALL-STARS
Led by right-handed starting pitcher Tyson Potts, the Prescott All-Stars have a collection of returners that are more than capable of winning the tournament, skipper Bert Miller said.
"I'm pretty confident. They are a core group of kids that are good and can step up and be leaders, and lead the team in a positive direction," Miller said. "It will be a challenge, as the tournament always is."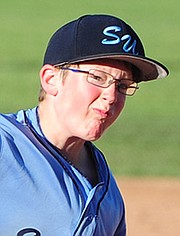 Miller, who is in his third year coaching Little League, but his first year at the helm of an All-Star team, said either Potts or Zane Torrey will get the nod on the mound Thursday when they open the tournament with the Bagdad All-Stars.
"Both of them are pretty good. Tyson was dominate throughout the season, but both of them have pitched in majors last three years," Miller said. "Zane has a nice off-speed pitch. Either one tomorrow night would be pretty good for opening game."
First pitch against Bagdad is set for 8 p.m.
PRESCOTT VALLEY ALL-STARS
Like his Prescott counterpart, skipper Chad Mertins believes his Prescott Valley All-Stars squad is good enough to go all the way.
"We're going to show up, rock and roll and hopefully win the whole thing," Mertins said. "We have 12 very good and reliable players that can play any position, and we have great pitching."
Mertins plans to send Ryan Buckle to the mound Thursday when Prescott Valley faces the Wickenburg All-Stars in first-round action of the District 10 Majors All-Stars Tournament.
As for weaknesses, Mertins said he doesn't see any with his team.
"The kids have been picking each other up. We should work more on communication, but other than that, we are solid," Mertins said.
First pitch is scheduled for 8 p.m.
CHINO VALLEY ALL-STARS
With nine players on the roster at age 12, the Chino Valley All-Stars have one of the oldest teams in the tournament, and skipper Jim Felton hopes that goes a long way in bringing home a District 10 title.
"We have a veteran team that's played together before," Felton said. "It's a bunch of kids that keep their head on straight, and if they keep pushing forward, they'll do great."
Felton said his team's strength is their fielding, but he hopes they can keep it together.
"It's important we keep it together when things go our way. We need to keep our heads high and push forward," Felton said.
Felton could go with Jayden Smith on the mound Thursday when Chino Valley faces the Camp Verde All-Stars to open the tournament.
First pitch is scheduled for 5:30 p.m.
Brian M. Bergner Jr. is a sports writer and columnist for The Daily Courier. Follow him on Twitter @SportsWriter52 or reach him by phone at 928-445-3333, ext. 1106.
DISTRICT 10 MAJORS ALL-STARS TOURNAMENT (12U)
June 30-July 9
Riverfront Sports Complex
First Round: Friday's Games
Game 1: Williams vs. Verde Valley, 5:30 p.m.
Game 2: Chino Valley vs. Camp Verde, 5:30 p.m.
Game 3: Bagdad vs. Prescott, 8 p.m.
Game 4: Prescott Valley vs. Wickenburg, 8 p.m.
More like this story
SUBMIT FEEDBACK
Click Below to: