Rodeo a Prescott tradition since 1888
Originally Published: June 23, 2016 11:58 p.m.
Updated as of Monday, June 27, 2016 6:27 AM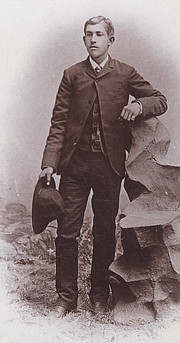 When to go
Here's a schedule of rodeo performances:
Performance #1 -
Tuesday, June 28, 2016 - 7:30 p.m.
Performance #2 -
Wednesday, June 29, 2016 - 7:30 p.m.
Performance #3 -
Thursday, June 30, 2016 - 7:30 p.m.
Performance #4 -
Friday, July 1, 2016 - 7:30 p.m.
Performance #5 -
Saturday, July 2, 2016 - 1:30 p.m.
Performance #6 -
Saturday July 2, 2016 - 7:30 p.m.
Performance #7 -
Sunday, July 3, 2016 - 7:30 p.m.
Performance #8 -
Monday, July 4, 2016 - 1:30 p.m.
The World's Oldest Rodeo action isn't only in the arena:
• Happy Hearts Rodeo for Exceptional Children, June 28
Held at the Prescott Rodeo Grounds, this special event began back in the early 1980s when the wife of a PRCA cowboy came up with the idea to offer exceptional children a first-hand experience at rodeo. All rodeo events are modified and take place on the ground so each contestant can participate. All participants are treated to a cowboy dinner and the kick-off rodeo performance.
• Annual rodeo dance
Date: June 30, July 1 & 2, Time: 8 p.m. to 1 a.m.
Location: BMO Harris Bank Parking lot, 303 N. Montezuma St., Prescott, AZ
Band: Zona Road
• Kiddie Parade
July 1 on the Courthouse Plaza
• Prescott Frontier Days® Inc. Parade
July 2, 9 a.m., Downtown Prescott, Courthouse Plaza
2016 Parade Theme: Let your voice be heard… Vote, it's the American Way!
Parade Grand Marshall: Tanya Tucker
• Courthouse Plaza Arts & Crafts Show
July 2, 3 & 4, Downtown Prescott - Courthouse Plaza
• Cowboy Church
July 3 at 8:30 a.m. on the Prescott Rodeo Grounds
The World's Oldest Rodeo marks its 129th year in 2016, and it's still going strong.
This year's event, held at the Prescott Rodeo Grounds, runs from June 28 through July 4, and there's plenty of fun to be had for everyone.
According to www.worldsoldestrodeo.com, the Prescott Rodeo traces its roots back to July 4, 1888, when a group of Prescott merchants and professional businessmen organized the first formal cowboy tournament with a cash prize. Juan Leivas won the first professional title – and some notice in the Arizona Journal-Miner, a predecessor of The Daily Courier.
While Prescott's rodeos mostly appealed to local cowboys and ranchers, giving them an opportunity to show off their ranch-bred skills in the late 1800s and early 1900s, Prescott Frontier Days emerged in 1913 at the Prescott Rodeo Grounds. Back then it was the Yavapai County Fairgrounds. "Rodeo" – a Spanish word for "roundup" – wasn't used to describe the sport until 1916. It was first used in Prescott in 1924.
Got some questions? The World's Oldest Rodeo has the answers:
Q: Are each of the rodeo performances the same?
A: Yes! All eight performances host the same events and specialty acts, so come join us when it fits your schedule!
Q: May I bring my children to the Rodeo? Is there a discount or free if under what age?
A: Yes! All ages are welcome. Small children 2 and under that do not occupy a seat are free. 12 and under receive a $2 discount but must be purchased through the ticket office to receive the discount.
Q: How long does it last?
A: Each performance last approximately 2 ½ hours
Q: May I bring my dog?
A: No, Pets of any kind are not permitted.
Q: Can I bring food & drinks?
A: No food, beverage, containers, or weapons of any kind are allowed at this venue.
Q: Are the seats covered? Do they have backs?
A: Most of the seats are covered, with the exception of the west end and arena level areas. The West end, arena level, and upper level bleachers do not have backs.
Q: How early can we come in?
A: Gates open 2 hours prior to the performance.
Q: What does it cost to park at the rodeo?
A: $5 per vehicle.
Q: Is there handicapped seating available? Parking?
A: Yes, both are available. Information and tickets available through the ticket office only.
Q: Can I bring my camera?
A: No recorders or cameras with detachable telephoto lenses are allowed.
Q: Is this a non-smoking event?
A: Smoking is prohibited at all times, including e-cigarettes, except in designated areas.
Q: What if it rains?
A: The rodeo will be held unless it is potentially dangerous for the contestants and/or livestock.
Q: What should I wear to the rodeo?
A: Put on your hat and boots! Festive, cowboy attire is always welcome, but not required. Comfortable clothing with a light jacket or sweater is recommended if joining us in the evening.
More like this story
SUBMIT FEEDBACK
Click Below to: