Photographers open macro show at Arts Prescott Gallery

By
Les Bowen
|
NewsyLesBowen
Originally Published: June 23, 2016 11:16 p.m.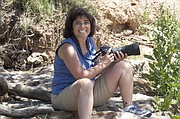 The "Hey Did You See That?" guest artist show premieres Friday, June 24, at Arts Prescott Gallery, featuring photographers Christy Garavetto in her debut alongside the established work of Jody Miller, known for her equine photography.
Opening night reception will be 5 to 8 p.m. Friday during the Fourth Friday Art Walk in downtown Prescott.
Garavetto owns a business doing equine acupressure combined with other modalities of body work for horses, and she started doing photography in her spare time between appointments.
"I thought it would be nice to take my camera along and visit some local rivers or areas on my drive every day," she said. "I found that as I was walking to the river or stopped along the road to take a sunset photograph what ended up happening when I looked around is that a tiny little flower would catch my eye."
She soon discovered a natural tendency to focus on a small bug or single bloom in her photos.
"I gave in to it finally and made a few of them my main focus," Garavetto said. "I ended up with a dragonfly posing for me for about 15 to 20 minutes on one of my walks and I just love that exchange between the dragonfly and myself, it was really fun and rewarding and those are some of my favorite photos I have taken so far."
For Miller, the gallery showing takes her away from her normal subjects.
"The idea of photography and why I shoot still remains the same," she said. "It's to capture those scenes that people may miss out on. That's why we called it. 'Hey did you see that?'," she said.
Miller said in preparing for the macro photography showing, she enjoyed shooting flowers.
"Not only do you get the exotic beauty of the flower, you notice every detail from the richness of the colors, the uniqueness of the petals, and sometimes the enjoyment of the scent," she said.
She admitted, though, she still enjoys photographing horses more.
"I like the challenge of capturing a fast-moving subject on film," Miller said. "I enjoy the beauty and grace of the horse and the deep connection I feel with the horses when I photograph them."
Arts Prescott Gallery is located at 134 S. Montezuma St., Prescott, and is open daily from 10 a.m. to 6 pm. "Hey Did You See That?" will be on display until July 20.
More like this story
SUBMIT FEEDBACK
Click Below to: