Local Rundown: Former Badger wrestler Payne takes reins of Prescott's program

Originally Published: June 21, 2016 10:52 p.m.
PRESCOTT — Former two-time Arizona state wrestling champion and Prescott High School graduate Max Payne will take over full time as the Badgers' next head wrestling coach, the athletic department announced Tuesday.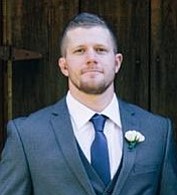 "We are super excited to have Max back at Prescott as our head coach for wrestling," Prescott athletic director Missy Townsend said. "His experience and knowledge of wrestling make him a perfect fit, not to mention his love and dedication to Prescott."
Payne, who won two wrestling titles of the Badgers in 2008 and 2009, took his talents to Montana State University-Northern on a wrestling scholarship and worked his way to become a team captain and two-time All-American.
In 2013 after graduating with a degree in diesel technology, Payne moved to Kalispell, Montana, where he was the assistant wrestling coach at Flathead High School, and now as of Tuesday, he'll be back in blue and gold.
"It has always been a dream of mine to come back to Prescott and coach my high school wrestling team," Payne said. "I am looking forward to building the sports of wrestling at Prescott."
Payne was inducted into the Prescott High School Hall of Fame in 2014.
Lumberjacks ranked in two top 25 football preseason polls
FLAGSTAFF — The Northern Arizona football team was recently ranked in the FCS Top 25 preseason polls by both Lindy's Sports and the Athlon Sports.
The Lumberjacks sit at No. 24 in the preseason poll for Athlon Sports, and No. 15 in Lindy's Top 25 list.
Earning preseason All-American honors by Lindy's Sports include sophomore quarterback Case Cooks and junior Emmanuel Butler.
Cooks and Butler return to a Northern Arizona team that finished 7-4 overall in 2015 and 5-3 in the Big Sky.
Under veteran head coach Jerome Souers, the Lumberjacks begin their 11-game schedule on Saturday, Sept. 3, at Arizona State.
Yavapai's Cougill in running for National Coach of the Year Award
LUBBOCK, Texas — The National College Baseball Hall of Fame announced finalists for the 2016 Skip Bergman National Coach of the Year Award on Monday, and Yavapai College's Ryan Cougill was on the list.
"Skip Bergman is a legendary coach. Any award named after him is going to be a pretty big deal," Cougill said. "The nomination looks good for the program, gives Yavapai national exposure. But it's more humbling than anything else."
The award honors the nation's top collegiate coach from any level of college baseball. The award finalists and winner are selected by a national committee of active and retired coaches from all levels of college baseball.
"The coaches on this list have either won a national championship, or are in the running, so they've all had great years," said Mike Gustafson, president and CEO of the National College Baseball Hall of Fame. "Any of them would make worth recipients."
Among the 10 finalists for the 2016 award are four Division I coaches, who will lead their team into the College World Series this weekend, including two for the first time - Andrew Checketts from UC-Santa Barbara and Gary Gilmore from Coastal Carolina - as well as Florida's Kevin O'Sullivan and 2014 Bertman Award winner Tim Tadlock from Texas Tech.
According to a press release, the other finalists include coaches of six championship teams: Greg Brown from Nova Southeastern (Florida) University (NCAA Division II), Tim Scannell from Trinity (Texas) University (NCAA Division III), Jeremiah Robbins from Lewis-Clark (Idaho) State College (NAIA), Chris Kirtland from Jones County (Mississippi) Junior College (NJCAA Division II) and Doug Wren from Tyler (Texas) Junior College (NJCAA Division III).
The award, sponsored by Easton Sports, will be presented as part of the College Baseball Night of Champions ceremony Saturday, July 2 in Lubbock, Texas.
The Night of Champions event also features the announcement of the winners of the National Pitcher of the Year Award, the John Olerud Two-Way Player of the Year Award and the Brooks Wallace Shortstop of the Year Award as well as the 2016 National College Baseball Hall of Fame inductions.
The winners of the Johnny Bench Award and the Dick Howser Trophy also will be recognized.
More like this story
SUBMIT FEEDBACK
Click Below to: