Honor Flight a life highlight for Iwo Jima survivor and self-made entrepreneur

By
Nanci Hutson
|
HutsonNanci
Originally Published: June 19, 2016 6:04 a.m.
GROOM CREEK – On his first trip to the Iwo Jima Memorial in Washington, D.C., in May, Charles "Chuck" Webster became an instant celebrity to a visiting group of high school students.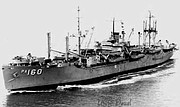 This World War II U.S. Navy veteran, who will turn 90 on June 21, was not just another visitor. The Honor Flight Arizona guest is an Iwo Jima survivor.
At age 17, the Kansas City, Missouri, native dropped out of high school to join the Navy. He didn't earn his diploma until after his discharge in December 1946.
"I wanted to serve, it was important to me," Webster recalled of his decision. "We were attacked … I knew that was wrong … and I wanted to be part of it."
Of course, the gung-ho teenager he was then could never have imagined what was to come.
"I'm 17 years old. I'm too dumb to be scared," said Webster, who with his wife of 53 years, Joni, divides his time between Lake Havasau City and Groom Creek. The couple together has three adult children, seven grandchildren, and are expecting their fourth great-grandchild.
From boot camp at the Naval Training Station in Farragut, Idaho, Webster was assigned to the USS Deuel PA 160, a just-commissioned attack transport ship where he was assigned to signal school. After a stop in the Philippines, Webster's ship loaded with Marines from the 26th Regiment, 5th Division powered toward Iwo Jima as one of 450 ships participating in the invasion of the Japanese-fortified island that quickly turned into a bloodbath. Some 6,800 Americans were killed and another 26,000 wounded; about 22,000 Japanese were killed, virtually all who occupied the island.
"That was when all hell broke loose," described the retired Chrysler franchise owner and long-time entrepreneur. "I could see it all. It was horrible."
In vivid detail, Webster recalled a torpedo bomber making its way toward the beach when it was blown up, the crashing plane just missing his ship.
"No one got out," he remembers with a shake of his head of tight, gray-and-white curls.
From Webster's perch, the too-young-to-vote signalman witnessed the first of two flag-raisings at the peak of Mount Suribachi. He missed the second one, which became an iconic image of American heroism in the fight for victory; it inspired the 1954 Marine Corps Memorial outside Arlington National Cemetery.
On the sixth day of battle, Webster's ship departed for the Guam Naval Hospital. En route, Webster and his shipmates endured numerous burials at sea.
"That was something," the amiable man states with a grimace and faraway look as he struggles against intermittent sobs. "You wouldn't think that after 70 years it would affect you like this. Bad stuff."
In his nearly three years of duty, Webster was on the front lines of history.
He toured the decimated Hiroshima after the dropping of the atomic bomb and was on patrol in Tokyo Bay on Sept. 2, 1945, when the Japanese officially signed the surrender documents aboard the USS Missouri.
"I witnessed it, but didn't know it at the time," Webster said.
ADVENTURER
Like many World War II veterans, though, upon his discharge Webster stepped away from the uniform. An adventurer at heart, Webster opted against dwelling on loss and defeat and instead reveled in his latest journey.
"It's been quite a ride," said his wife who met Webster while modeling at a home show in Kansas City where he was displaying wares from this tool rental store business. They married eight weeks later.
In 1970, the Websters relocated from Kansas to Arizona after friends "talked me into investing in prospecting for gold."
"Long story short, I lost all my money," Webster said.
Near penniless, Webster again didn't succumb to defeat. Rather he set out to find a job to feed his family.
He found one as a mason for the reassembly of the London Bridge moved across the Atlantic to Lake Havasau City.
Never mind he had no experience. "I lied through my teeth," he admits with a wry grin.
Still, the affable, and apparently fast-learning, man earned favor with the job foreman. He got the job the same night he applied. A day later, he was assigned his own crew.
Misgivings aside, Webster said, "I turned out to be a pretty good mason."
Today, the stone bridge is a major Arizona attraction.
Once the six-month gig finished, Webster relied on his gregarious nature and business acumen to launch yet another career in the used car business.
By 1972, Webster owned his own dealership.
He retired in 1988. Yet, he is not someone who sits idle.
So when a veteran friend first asked him about the Honor Flight, a program that treats World War II and Korea veterans to a trip to visit "their" memorials in the nation's Capitol, Webster was busy with other pursuits.
His interest was piqued, though, when his friend returned, raving about the experience, he said. That friend has since died.
Earlier this year, when another friend and fellow veteran, Bob Lasher of Prescott, offered to accompany him, Webster figured the time had come to go.
Now he is a vocal ambassador for the three-day excursion that enabled him to be a time traveler.
"It is the most fantastic experience I probably ever had in my life," Webster said as he wipes away his tears.
Standing at the foot of the Iwo Jima statue was what Webster described as his biggest thrill; a chance to recall his role on the front lines of history and pay honor to his fallen comrades.
"It was not hard to be there, but hard to talk about," Webster said.
For Lasher, 81, a U.S. Army veteran, the trip was "one of the most humbling experiences I've ever had."
"To see the honor displayed toward Chuck, and the other veterans, Wow!" Lasher said. "I was so proud he was my friend.
"These guys are dying off every day. And it makes you think about what the world would be today if we hadn't won.
"They gave it all."
More like this story
SUBMIT FEEDBACK
Click Below to: