32 names added to Prescott vet memorial (VIDEO)
More than 350 veterans and residents paid their respects this week to the military personnel from Yavapai County who lost their lives in the service of their country. The crowd gathered on Tuesday at the rededication ceremony for the All Veterans Memorial Plaque on the Yavapai County Courthouse Plaza.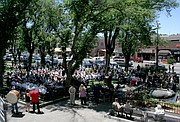 Photo Gallery
32 Names Added To Veteran Memorial
The event included musical selections from the Central Arizona Concert Band, the High Mountain Chordsmen, guitarist Jack Brugger, bagpiper Dan Mansfield, and trumpeters John Stevens and Tony Gonzalez who played Echo Taps. Lee Nelson, member of the Daughters of the American Revolution, recited the poem In Flanders Fields. State Representative Noel Campbell gave the keynote speech where he offered the audience a glimpse of the five most recent men to lose their lives.
"We are here to celebrate the lives of these men and celebrate the freedoms they died for," Campbell said.
Several families of the 32 servicemen whose names were added to the plaque attended the ceremony. Members of the Young Marines presented them with wall-hangings made by local quilters.
After the unveiling of the two plaques by the co-chairs of the Veterans Memorial Plaque Committee Betty Bourgault and Phil Goode, the Yavapai County Board of Supervisors took turns reading the 187 names of Yavapai County servicemen who died during WWI, WWII, Korean War, Vietnam War, Persian Gulf War and the Global War on Terror.
It was an exceptional day that had special meaning for those in the audience who had seen combat and who had lost a friend, Goode said.
Bourgault reported that the day following the event she received a bouquet of flowers from family of William Emmons King, WWI, who came from Minnesota for the ceremony. A card thanking her for her dedication, for the memorial, and for the invitation to attend, reads in part, "Know how much we appreciate all you have done!" signed Jane and Joyce Norblom.
"I have to tell you this brought tears to my eyes," Bourgault said.
More like this story
SUBMIT FEEDBACK
Click Below to: