Juneteenth Jazz Splash this weekend will honor Ali

By
Les Bowen
|
NewsyLesBowen
Originally Published: June 16, 2016 7:39 p.m.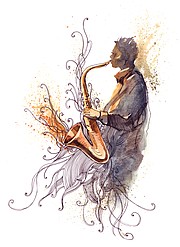 The Arcosanti Juneteenth Jazz Splash Festival enters its 18th year this weekend, Saturday and Sunday, June 18-19.
The annual flagship event of the Prescott Jazz Society is "fun and games and vendors, and lots of music all day," said society President Milt Cannon Jr.
The event runs from 11 a.m. to 11 p.m. Saturday and 11 a.m. to 7 p.m. Sunday. Daily admission is $5.
The Sunday afternoon lounge party was renamed this year as the Larry Wilson Cabaret, memorializing the Phoenix artist who helped bring valley artists to the annual event, and who dies in 2013.
This year's event will also honor Muhammad Ali, who died June 3 in Scottsdale.
"I thought it was all I could do to at least do it in his memory," Cannon said.
Pianist Harold Land Jr. is this year's headliner.
"He's legendary, and his father was legendary," Cannon said. "He's a great jazz player."
The Sunday cabaret show features vocalist Sherry Roberson.
"She's a Phoenix diva, but she's international," Cannon said.
Other performers for the weekend include Cannon, Eric Williams, Mudbone, The R.D. Olson Blues Band, Ray Carter and Prescott's own Jonathan Best.
"We're doing a jazz timeline, looking at the evolution and history of jazz," Cannon said.
It starts with Best performing ragtime and boogie-woogie at noon Saturday, Mudbone at 1 p.m., The R.D. Olson Band at 2:30 p.m. and Land at 4 p.m.
The Saturday dance starts at 6 p.m. featuring the mixed combo of Funk FREQuency's Michael Wright and Trial by Fire's Carlton Godwin.
On Sunday, Land returns with Latin jazz at noon, followed by Cannon's bebop jazz at 1:30 and Land again at 3 p.m. under a billing of "beyond jazz."
The Larry Wilson Cabaret Show starts at 4:30 p.m.
Arcosanti is located on the west side of Interstate 17 in Cordes Lakes. From Mayer, follow Highway 69 to Arcosanti Road. Turn left on Cross L Road then right on Scenic Loop Road.
More like this story
SUBMIT FEEDBACK
Click Below to: