Good news in Yarnell: Residents headed home

By
Les Bowen
|
NewsyLesBowen
Originally Published: June 12, 2016 6:03 a.m.
YARNELL – It's safe to come home.
After an uneventful Saturday, June 11, Tenderfoot Fire Incident Commander Allen Sinclair announced the lifting of the mandatory evacuation as of 6 p.m. for residents on the east side of Highway 89 in Yarnell and Peeples Valley.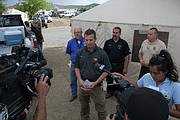 "We made the determination that it's safe to allow residents back," Sinclair told reporters Saturday evening at a briefing outside Model Creek School in Peeples Valley.
In rescinding the mandatory evacuation, authorities also rescinded the precautionary warnings for residents on the west side of the highway.
In all, some 250 residents evacuated from Yarnell and Peeples Valley, Yavapai County Emergency Manager Denny Foulk said.
Most found their own temporary living arrangements – Foulk suggested many stayed with friends or family in the area.
The American Red Cross shelter at Yavapai College only reached about 10 percent of its expected demand.
"As of this morning, we had five folks in the shelter," Foulk said. At its peak, there were 20 evacuees staying there.
Sinclair commended the initial response in both evacuating homes and in attacking the fire.
"The initial attack resources and Type 3 teams here prior to our arrival really handed off a great plan," he said, adding there have been no injuries among firefighters.
In Yarnell, it's evident how close the fire came to homes and businesses, some of which are separated from the burn area by a narrow strip stained with fire retardant.
But the active fire moved north and east, away from both Yarnell and Peeples Valley.
"You're not seeing a lot for a reason. We're on a downward trend. If the fire holds through the day, I can see us feeling comfortable maybe releasing some resources in the near future, and then right-sizing the organization and eventually turning it over to a smaller management organization," he said.
Sinclair said no additional structures have burned since the initial three outbuildings reported earlier in the week.
The total are burned remained at 4,040 acres – the same figure fire officials announced Friday afternoon.
Sinclair said fire containment is now at 30 percent – up from Friday's 10 percent.
"I would say it will be increasing from here on out," he added.
He said Saturday demonstrated the fire lines set by aerial drops Friday and the lines cut by ground crews held throughout Saturday.
There's no drawdown in crews yet.
Six hotshot crews are still assigned to the fire – two of them Type 2 initial attack crews – in all approximately 350 personnel are assigned.
Apparatus include 22 engines, five helicopters and two planes assigned as well. Two heavy tankers that dropped retardant earlier in the week weren't needed.
Authorities opened Highway 89 on Friday afternoon, and it remains open, though signs warn of a "strictly enforced" 25 mph speed limit through Yarnell.
The fire's origination – deemed to be human-caused – remains under investigation.
SUBMIT FEEDBACK
Click Below to:
More like this story