Yarnell: Humans to blame for wildfire; some residents return to homes

Originally Published: June 11, 2016 6:22 a.m.
Tenderfoot Fire Incident Commander Alan Sinclair said Friday afternoon that time is on the side of firefighters battling a wildfire near Yarnell and Peeples Valley.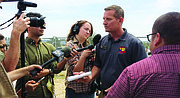 "There's nothing immediately threatened," Sinclair said, indicating that the wind was pushing the fire north-northwest, away from inhabited areas.
Fire managers estimate the human-caused Tenderfoot Fire had reached 5,000 acres Thursday evening, but infrared flight images put the burned area at about 3,300 as of early morning Friday. Officials believe the fire began just off Highway 89 on a dirt road that connects to Stanton, said Yavapai County District 1 Supervisor Rowle Simmons. The cause remains under investigation.
Weather forecasts indicated a chance of thunderstorms on Friday and Saturday. However, while rain would be welcome, those conditions also bring a set of problems, including possible lightning strikes and increased winds.
"The clouds are helping, but winds from Southern Arizona might be more erratic in character. We're watching it closely," said Dolores Garcia, spokesperson from the Bureau of Land Management (BLM).
By 4 p.m. Friday, residents of Yarnell were able to return to their homes and businesses on the west side of Highway 89. The east side of Highway 89, however, remains closed and continues under evacuation order as fire crews continue to fortify the slurry line, said Dwight D'Evelyn, media relations coordinator with the Yavapai County Sheriff's Office.
"This order will be reviewed again in the morning and residents will be notified," D'Evelyn stated in a press release Friday afternoon.
He cautions residents to travel slowly as fire crews and law enforcement will be working throughout the town. Speed limits will be enforced, he added. Areas around Wagoner Road, which is east of Highway 89 and north of Peeples Valley, remain closed.
D'Evelyn praised the work of fire crews, deputies, Department of Public Safety (DPS) officers and other volunteer groups, and said they all appreciated people's patience during the incident.
"As many know and witnessed, fire crews and aircraft support did an amazing job the first fire day to protect the town of Yarnell. Yavapai County Sheriff's Office thanks all those who cooperated in a very hasty evacuation as deputies went door to door making contact with residents," he said.
Many residents received their Code Red Emergency Notification and followed the instructions without hesitation. D'Evelyn said officials prioritized evacuation of those residents with handicaps, and they were removed quickly and safely. He thanked Lifeline Ambulance for their assistance.
Yavapai County Emergency Management has provided a dumpster for residents for disposal of food items only at the Yarnell Presbyterian Community Church. Since electric power may have been off for several days, certain refrigerated foods may need to be thrown out.
Arizona Public Service (APS) had restored power to all but about 25 customers on the east side of Highway 89 by noon Friday, said APS Division Manager Steve Quinn. Workers were preparing to energize a 69KV line yesterday afternoon.
At one point, about 500 customers were without power. APS workers temporarily reconfigured power to lessen that to about 25 customers.
"The town is our highest priority. Power should be back up this afternoon," Quinn said. "What this town's gone through is heartbreaking. I watched the first night as the fire came over the hill. These people were not wasting any time getting out."
Yavapai County Development Services Director Steven Mauk said driving up to Yarnell Friday was "like déjà vu."
"I drove in here and my heart started racing. I had staff, when they heard the news, started crying," he said, referencing the devastating Yarnell Hill Fire three years ago that burned homes and took the lives of 19 Granite Mountain Hotshot firefighters. "This time, everyone was so much more prepared."
He said the county worked with property owners on the wildland/urban interface since then, and also fielded calls from concerned residents about neighbors' weedy yards.
Simmons pointed out burned land that abutted residential property on the east side of the highway. Firefighters back-burned uphill from homes to the ridge, which previously had been cleared of underbrush, he said.
Garcia also praised the efforts that created a fuel break between the town and BLM and state land. She said people who flew over the area in helicopters commented on how the fire appeared to just stop when it hit the breaks.
"I have to say, creating defensible space is my baby. Here you have an active example of how it works. I tell people it's worth it, keep up the effort," she said.
SUBMIT FEEDBACK
Click Below to:
More like this story