Tenderfoot Fire doubles Wednesday night, Peeples Valley evacuated Thursday
Residents of Yarnell stayed separated from their homes for a second night as firefighters continued to battle the Tenderfoot Fire Thursday, June 9. About 30 residents of Peeples Valley joined them in leaving their homes Thursday afternoon as the burned area exceeded 1,300 acres.
The fire, which started at about 3:15 p.m. Wednesday, June 8, on the east side of Highway 89, has caused the evacuation of 250 to 300 Yarnell residents. Three outbuildings have been burned, with no reports of damage to homes.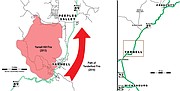 By Thursday afternoon, Yavapai County Sheriff's Office was informing residents of Peeples Valley, northwest of the fire, to be prepared for evacuation if the fire should move in their direction. Just after 4 p.m. the order to evacuate came for the 30 residents living on the east side of Highway 89. Fire personnel have issued warnings to residents to the west of the highway.
Photo Gallery
Yarnell Tenderfoot Fire
Photo Gallery
060916 Yarnell Tenderfoot Fire
The 2013 Yarnell Hill Fire, in which 19 of the Granite Mountain Hotshots died, was located on the west side of the highway.
About 240 personnel are working on the Tenderfoot Fire, the cause of which remains under investigation. Four Type 1 Hotshot crews, two Type 2 hand crews, 20 engines, four water tenders, two helicopters and one air attack plane are battling the fire. A Type 2 Incident Management Team was briefed in at 5 p.m. Thursday. As of 6 p.m., the fire was 10 percent contained.
Both north and south access on Highway 89 into Yarnell are closed, and the incident commander suspended resident escorts into town Thursday until further notice. Only emergency personnel are allowed into town.
The U.S. Department of Homeland Security's Federal Emergency Management Agency (FEMA) has authorized the use of federal funds to help the Arizona Department of Forestry and Fire Management (ADFFM) fight the fire after ADFFM submitted a request for a Fire Management Assistance Grant (FMAG) declaration for the Tenderfoot Fire. The FEMA acting regional administrator for Region IX determined that the Tenderfoot Fire threatened such destruction as would constitute a major disaster.
The FMAG provides federal funding for up to 75 percent of eligible firefighting costs, which include expenses for field camps; equipment use, repair and replacement; tools; materials; supplies and mobilization; and demobilization activities.
The fire has affected the town. Organizers have cancelled the Dollar General Car Show scheduled for Saturday, June 11. The store was to bring the No. 20 Dollar General Toyota Camry to show customers what the car, similar to the race car driven by NASCAR driver Matt Kenseth drives, looks like.
Also, the U.S. Postal Service advises that Tenderfoot Fire evacuees may pick up their mail at the Wickenburg Post Office, 2029 W. Wickenburg Way, until further notice. About 600 Yarnell residents normally receive P.O. Box mail delivery at the Yarnell Post Office on Highway 89. Yarnell Postmaster Janice Middleton said Thursday afternoon the status of the Yarnell Post Office building is unknown following Wednesday's evacuation.
Gov. Doug Ducey said the safety of Yarnell residents, firefighters and first responders is of "paramount importance," and he remains in constant communication with local and federal fire officials.
"As always, we are incredibly grateful for our partners in these ongoing suppression efforts, especially the brave women and men on the front lines fighting this and other fires in the state. I encourage all Arizonans to be vigilant and safe this wildfire season," Ducey said.
The Prescott National Forest is looking to issue Stage 1 Fire Restrictions this coming week, said spokesperson Adreiane Ragan in a June 8 press release.
"The effective date is being coordinated while taking into consideration restrictions planned by other nearby federal, state, and local jurisdictions and will be announced in the next few days," Ragan said.
Related Stories
More like this story
SUBMIT FEEDBACK
Click Below to: