Editorial: There is no such thing as being over-prepared
Originally Published: June 10, 2016 6 a.m.
Sadly, Yarnell residents are facing yet another wildland fire. I'm sure every part of it – the sirens, the smell of the smoke, the packing up – has brought forward bad, bad memories for them.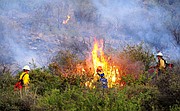 There are 12 fires burning in Arizona, for a total of nearly 12,000 acres. Wildfire season has arrived here, fast and furious.
National forest officials have spotted a multitude of unattended campfires in the last month. I'd think it would be common sense to know that your little campfire can become a raging inferno in a short amount of time. Drown it and bury it, when you are done. Don't leave it for any amount of time if you are heading out for a bathroom break, a hike or anything else. Leave someone at the camp to watch it – or douse it and bury it, if you are the only one.
We have shared wildfire preparedness information before, but it needs repeating. If you are asked to evacuate by officials, do it. They don't ask you to leave on a whim. In fact, if you see a fire near your home and it's uncontrolled, considering leaving on your own. That would be one less family officials need to worry about and that decision can keep the last-minute evacuation traffic to a minimum.
According to www.readyforwildfire.org:
Before you evacuate:
• Shut all windows and doors, leaving them unlocked.
• Remove flammable window shades, curtains and close metal shutters.
• Remove lightweight curtains.
• Move flammable furniture to the center of the room, away from windows and doors.
• Shut off gas at the meter; turn off pilot lights.
• Leave your lights on so firefighters can see your house under smoky conditions.
• Shut off the air conditioning.
Outside:
• Gather up flammable items from the exterior of the house and bring them inside (patio furniture, children's toys, door mats, trash cans, etc.) or place them in your pool, if you have one.
• Turn off propane tanks.
• Move propane BBQ appliances away from structures.
• Connect garden hoses to outside water valves or spigots for use by firefighters. Fill water buckets and place them around the house.
• Don't leave yard sprinklers on or water running, they can affect critical water pressure.
• Leave exterior lights on so your home is visible to firefighters in the smoke or darkness of night.
• Put your Emergency Supply Kit in your vehicle.
• Back your car into the driveway with the vehicle loaded and all doors and windows closed. Carry your car keys with you.
• Have a ladder available and place it at the corner of the house for firefighters to quickly access your roof.
• Seal attic and ground vents with pre-cut plywood or commercial seals.
• Patrol your property and monitor the fire situation. Don't wait for an evacuation order if you feel threatened.
• Check on neighbors and make sure they are preparing to leave.
Animals:
• Locate your pets and keep them nearby.
• Prepare farm animals for transport and think about moving them to a safe location early.
It's all about being prepared. Keep vigilant on the changing conditions through social media like The Daily Courier's Facebook page, Twitter handle @TheDailyCourier and dCourier.com. Keep the TV or radio on for alerts. Make sure you are following emergency services and local media on your smart phone or computer.
Stay educated and stay alert. Stay alive.
More like this story
SUBMIT FEEDBACK
Click Below to: