Death of a soldier: Mom thankful she was able to watch son's final moments
Former CVHS student's name to be added to war memorial
Originally Published: June 8, 2016 6:02 a.m.
NEW PLAQUE DEDICATION
When: Noon,
Tuesday, June 14
Where: Courthouse Plaza in Prescott
What: The dedication of a new plaque with the names of recent veterans killed in wars plus others from previous wars who were overlooked.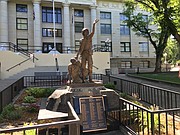 At noon on Flag Day, Tuesday, June 14, a new plaque is scheduled to replace the old one on the All Veterans War Memorial statue on the west side of Courthouse Plaza in Prescott, updating it with an additional 32 names of Yavapai County residents who were killed, or missing, in an active war zone.
One of those names is Sgt. First Class Barett W. McNabb, who called Chino Valley home when he enlisted.
McNabb, who attended Chino Valley High School, died on June 12, 2012 after he stepped on an improvised explosive device (IED) near Khakrez, Afghanistan. Television cameras filmed the final moments of his life and that footage was later broadcast as part of National Geographic channel's Inside Combat Rescue series.
McNabb's mother, Georgia McNabb, said the show's producers asked for her permission before they aired the footage. She said she knew it would be difficult to watch the scenes showing her son.
"I watched all [the other episodes before watching the episode with her son in it] to prep myself," Georgia McNabb said in a phone call. She and her husband, Steve McNabb, are in Alabama because of Steve's current job. She said they cannot afford to come to Prescott next week to attend the ceremony.
After watching all the other episodes, she watched Episode No. 6, titled Coming Home. The attempted rescue of McNabb takes place in the final 14 minutes of that episode.
She said she was actually happy she got to see that footage and it was beneficial.
"It was like I was with him the whole time," Georgia McNabb said. "I had no idea what had happened until I saw it. You could see how hard they worked to save him. They gave 110 percent trying to save him."
Warning to anyone interested in viewing the episode: It is very graphic and not easy to watch. McNabb is shown in his injured state right after the explosion that would claim his life. They digitally blur his face, but the damage to his body is shown. The segment includes the moment when doctors certified McNabb's death.
"I wear a dog tag bracelet with his name and two other of my good friends on it," Retired Sgt. Douglas J. Grewell wrote in a text message. He said he served with McNabb in Iraq in 2006 and 2007. "I've never taken it off, nor will I.
"McNabb is dearly missed every day. He always had a smile on his face, even when he was mad. [He] always taught us the right way by leading from the front."
McNabb, who was 33 when he died, was born and raised in Colorado. In the mid-1990s the family moved to Chino Valley. He left Chino Valley High School before graduating but would later earn his General Educational Development degree.
"He worked at Taco Bell, then Village Inn in Prescott," Georgia McNabb said. "That's where he met the woman who would become his wife."
McNabb tried to start his own construction business with a friend and when that didn't work out, he enlisted with the United States Army, his mother said. He was serving in Kuwait on Sept. 11, 2001 when terrorists attacked.
"Because he was already over there before the war began, the Army doesn't count that as a tour," Georgia McNabb said. "That's why they say he only had four tours to the Middle East. But he had five."
McNabb and his wife, Georgette, had a son, Jacob, who is now 20. She also has a daughter from a previous relationship, Jessica. They live in Washington state, where McNabb was last based.
"He was always out in front, it was his job to make sure it was safe for others," Georgia McNabb said.
The war memorial in Prescott honors all veterans who were born, raised or living in Yavapai County when they enlisted and are killed or missing in an active war zone. There were 137 names originally on the memorial when it was installed in 1989. Veteran Neil Logan designed the statue, Medevac, that is the centerpiece of the memorial.
There were 17 more names added in 1992, including the name of the first Gulf War casualty. No names have been added since then, making the current total 155 names.
In addition to McNabb, the names of others killed or missing in conflicts in the Middle East that are being added next week are Reece D. Moreno, Prescott/Prescott Valley; Edward T. Reeder, Camp Verde; Jonam Russell, Cornville/Cottonwood and Tenzin L. Samten, Prescott.
Also, the names of 27 others who qualify but were overlooked from previous wars are scheduled to be added, bringing the new total of names on the memorial to 187.
"I first started this project in 2014 when I saw the memorial and noticed it hadn't been updated in a while," said Betty Bourgault, founder of the Yavapai County Veterans Memorial Plaque Committee. "I researched and found the names of 12 veterans from World War I who were overlooked, and now after 98 years they will finally be remembered."
The names of overlooked veterans being added are:
(From World War I) Charles M. Dewey, Jerome; Howard M. Draper, Yavapai County; Walter H. Grant, Jerome; Charles A. Harding, Seligman; Guy A. Jamison, Canyon (Black Canyon); John Kelly, Mayer; Will King, Prescott; William Emmons King, Prescott; Sidney Owens, Mayer; Arthur J. Tisdale, Jerome; Steve Vaglio, Jerome; and William Walter, Seligman.
(From World War II) Harold Cobb, Yavapai County; Adolfo V. Fritz, Jerome; Manuel Garcia, Yavapai County; Pilar Muniz, Jr., Jerome; Gabriel Olvera, Jerome; Bennett Dale Hites, Clarkdale; Leslie Price Jacobs, Yavapai County; Robert T. Luepke, Clarkdale; Charles G. Morris, Camp Verde; Harry Stewart, Cottonwood; Herbert V. Young, Clarkdale; and Joseph L. Nichols, Cornville.
(From the Korean War) Jesse M. Gaitan, Jerome/Prescott; and Ross Moore Lockhart, Cornville.
(From the Vietnam War) Billy Raymond Bennett, Cottonwood.
Georgia McNabb said that even though she and her husband will be unable to attend, she appreciates all that the residents of this region have done to recognize her son's sacrifice despite the fact that he only lived here for a few years, including flying flags at half-mast after he died.
"Arizona has honored him a lot more than his home state [Colorado] has done," Georgia McNabb said.
Follow Ken Sain on Twitter @ksainjr. Reach him at 928-445-3333 ext. 2021, or 928-420-5341 or email him at ksain@prescottaz.com.
More like this story
SUBMIT FEEDBACK
Click Below to: