Blue Angels pilot killed in crash has Mayer connection
Originally Published: June 3, 2016 9:01 a.m.
SMYRNA, Tennessee – A Blue Angels pilot who died when his F/A-18 fighter jet crashed near Nashville on Thursday, June 2 had a connection to Mayer, Arizona.
A U.S. official identified the pilot killed Thursday as Marine Capt. Jeff Kuss. The official was not authorized to discuss the matter publicly and spoke on condition of anonymity.
The Crew Chief of Kuss' #6 fighter jet is AD1 Justin Hanks, of Mayer. Hanks was the subject of a profile in the Daily Courier on May 26.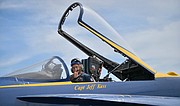 In an interview with The Daily Courier, Hanks said his job was to "take care of the pilot and the aircraft that pilot will be flying.
"I do all the inspections on the aircraft, and do all the pre-flight (checks), operational checks, and whatever maintenance is needed, I help out with that."
Hanks has been with the flight demonstration team for 18 months.
The Navy said in a news release that the pilot was beginning to take off during an afternoon practice session for a weekend air show performance when the crash happened. Five other F/A-18 jets landed safely moments after the crash.
"My thoughts and prayers go out to the family and friends of the Blue Angels after this tragic loss. I know that the Navy and Marine Corps Team is with me. We will investigate this accident fully and do all we can to prevent similar incidents in the future," Adm. John Richardson, the Navy's top officer, said in a Facebook post. The team is based at Naval Air Station Pensacola in Florida.
"It's hard to put into words right now, but it's beautiful that a person can live and die engaged in their life's pursuits," said Kuss' grandfather, Dolph Kuss, reached at his home in Durango, Colorado. "This was his dream since he was a child, to be an aviator, a flier."
He choked back tears and said he was struggling to gather his thoughts.
"It's hard to celebrate someone's life in this way," he said. "It is certainly a shock. Everything in life has its dangers, I guess."
Kuss was married with two young children, his grandfather said.
According to his official Blue Angels biography, Kuss joined the elite aerobatics team in 2014 and accumulated more than 1,400 flight hours. He was a native of Durango and was commissioned as a second lieutenant in the Marines in 2006. He had previously served in Afghanistan before joining the Blue Angels.
Kuss' hometown newspaper, The Durango Herald, reported when Kuss was named to the Blue Angels team that he was a 2002 Durango High School graduate and 2006 graduate of Fort Lewis College, where he studied economics. The newspaper said he had been "enamored of jets since he was a toddler," learned to fly in Durango and soloed in a Cessna 152 when he was 15.
"He still hadn't gotten a driver's license," his mother, Janet Kuss, told the newspaper then. "His favorite toys were jets, and he wanted to be a Blue Angel since forever."
In a video the U.S. Navy posted to its YouTube channel, Kuss stood in his flight suit in front of a line of Blue Angels planes and answered a question from a fan about how to become a pilot.
"I started flying when I was a young kid," he said. "I always had a love for it, worked really hard through school, went to college and eventually got into the military. I wanted to fly the fastest, meanest thing I could. And that's why I'm here today, because I was fortunate enough to get to fly the F-18 Hornet. It's been a great experience every time I strap into it."
A U.S. Navy spokesman said Friday that the Blue Angels operation was in "lockdown" and he could not make Hanks available for comment.

———
Associated Press writers Kristin M. Hall, Lolita C. Baldor, and Claire Galofaro contributed to this report. Follow Scott Orr on Twitter @AZNewsguy. Call him at 928-445-3333 ext. 2038 or 928-642-7705.
More like this story
SUBMIT FEEDBACK
Click Below to: