Party in the Pines at Prescott's Mile High Middle School this year

Originally Published: June 2, 2016 9:07 p.m.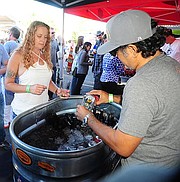 Essentials
Where: Prescott Mile High Middle School
When: Saturday, June 4 from 5-10 p.m.
Admission: $20
Online: PartyInThePinesPrescott.com/
An event that has grown larger every year takes place this year on the grounds of Prescott Mile High Middle School in downtown Prescott. Prescott Area Young Professionals (PAYP) hosts the Sixth Annual Party in the Pines event from 5-10 p.m. on Saturday, June 4.
For a $20 entrance fee, participants get eight drink tickets and a commemorative glass. Also available are food trucks, raffles (including a 50/50 raffle), lots of craft beer, wine and music.
Live entertainment is provided by The Black Moods, The Cross-Eyed Possums, Generation, Trey Odum, and DJ Chris Hussey. Large trees provide shade and there's plenty of room for dancing.
"We moved the party to the middle school field because there's more space and it will be cooler. The asphalt at Goodwin Plaza really held in the heat," said Megan Smith, PAYP planning committee member.
The Black Moods are a three-piece rock band from Tempe, comprised of lead guitarist/vocalist Josh Kennedy, bassist/backup vocalist Paul Fenix, and Drummer Chico Diaz. They play high-energy rock and roll from the past 40 years.
Also on site, and opening earlier in the day, is the Desert Rose Market – free for Party in the Pines attendees, $5 for just the Market – where shoppers will find one-of-a-kind vintage items, clothing, jewelry, art, home décor, and body care products. Fun activities for children also are on hand. Party in the Pines participants can come early to the Market and return later in the day without paying additional costs.
The event benefits the Adopt a Classroom program to help bring needed school supplies into public schools. The national organization has served 8,687 teachers this year.
"The money will stay local," Smith said. "We will give money to classroom teachers in the Prescott, Humboldt and Chino Valley Unified school districts."
PAYP members anticipate about 3,000 people at the event, but have prepared for an increased attendance by ordering 4,000 specialty glasses. Smith said there will be at least 40 different kinds of craft beer and wines available.
More like this story
SUBMIT FEEDBACK
Click Below to: