Kudos Kravings: Small dishes, small news at area restaurants

By
Max Efrein
|
mefrein
Originally Published: June 2, 2016 5:18 p.m.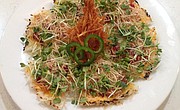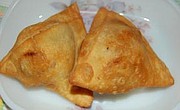 Appetizers can sometimes be underrated.

This article is to bring a few of those overlooked starters into the limelight while delivering snippets of news about the restaurants that offer them.
Thai Café:
New to Prescott Valley, Thai Café, 3050 N. Windsong Drive, Suite 101, has an extensive menu to explore and a pleasantly delicate Asian-themed dining environment to enjoy for lunch and dinner.
One appetizer the restaurant's staff highly recommends is its fried wontons. For $7.95, the dish consists of eight wontons stuffed with carrots, potatoes and onions, seasoned with curry powder and white pepper.
Another popular choice is the papaya salad for $8.95. This is shredded raw papaya, carrots and cabbage mixed with tomatoes, ground peanuts, fresh chili and lime juice.
Esoji Teppan Steak & Seafood, Sushi Bar:
Serving as Northwest Prescott's sushi hotspot, Esoji recently hired on a new chef from New York who has brought with him some new dishes.
Though they're playing with the name, an appetizer the new chef has contributed that owner Eriko Horikawa said everyone is finding to be delicious is the sushi pizza.
The 8-inch, $18 dish has crispy rice as a crust, is covered in a creamy sauce and topped with fresh sashimi and a few other complementary ingredients.

As of Wednesday, May 25, the restaurant, 1355 Iron Springs Road, has also begun to offer lunch from Monday through Friday, 11 a.m. to 2 p.m. Patrons may choose from various forms of rice bowls during these lunch hours.
Taj Mahal:
The only Indian restaurant in the greater Prescott area is known for quite a few unique features, including a popular lunch buffet, the occasional belly dance show and a fully-stocked hookah bar.

Two appetizers owner Gill Singh recommends are the vegetable samosa (deep-fried crispy pastries filled with potatoes and peas) and the vegetable pakora (mildly spiced batter-fried vegetables). Both are priced at $4.99.
Singh will be opening another Taj Mahal in Scottsdale in mid-June, but said his Prescott location, 124 N. Montezuma St., isn't going anywhere.
Bill's Grill:
Not to be confused with Bill's Pizza next to the square, Bill's Grill, 333 S. Montezuma St., offers twists on American cuisine, incorporating flavors from throughout the world.

Recent additions to the restaurant's appetizer selection are a classic Caprese salad for $6.50 and Bavarian soft-baked pretzels for $6.75.
The latter is three soft-baked pretzels served with homemade beer cheese sauce. For those of us not from Wisconsin — where beer cheese is reportedly everywhere — the dip/spread is exactly what it sounds like: cheese (typically a sharp cheddar) mixed with any beer of choice and a variety of additional herbs and spices. The beer of choice at Bill's Grill is Oak Creek Amber.
"Cooking the sauce eliminates the alcohol while retaining the flavor," said general manager Joseph Madden.
More like this story
SUBMIT FEEDBACK
Click Below to: