102-year-old Prescott woman shines at Democratic National Convention
Centenarian delegate exhausted but exhilarated by unexpected celebrity

By
Nanci Hutson
|
HutsonNanci
Originally Published: July 28, 2016 6:14 a.m.
PHILADELPHIA, PA. – The grande dame of this Democratic National Convention is none other than 102-year-old Jerry Emmett of Prescott.
The lady with a full head of curly white hair and a preference for bright pink lipstick has added a special bit of sparkle to what will surely go down in history books as one of the premier political events of all time – the moment when Hillary Clinton became the first woman to receive a major U.S. political party's nomination for president.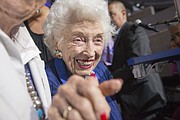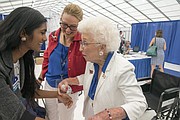 "I'm just so tired," declared Emmett during a cell phone interview from the convention where she has conducted no less than 30 television and other media interviews and has been continually applauded as a Democratic Party loyal born before women had the right to vote. "I can't believe it. I feel like the sky is falling. I've never had so much attention in my life. I don't know what's happened. I wanted Hillary to get all this attention, not me."
Of course, Arizona's honorary delegate and Democratic "junkie" admits the heady experience has been an unforgettable thrill, something she longed to witness in her lifetime.
On Tuesday, during the formal roll call vote, Emmett, Arizona's oldest honorary delegate, announced, "And 51 votes for the next president of the United States of America, Hillary Rodham Clinton!"
After her 20th interview Wednesday, though, Emmett said she was ready to call it a night. She said she was watching the remainder of Wednesday evening's speeches on television. The hubbub surrounding her while in the arena prevented her from hearing the speeches, she said.
Emmett hinted she might have to turn off her cellphone so she could get much-needed sleep.
"Right now, I'm screaming for help," Emmett said of asking friends to take her back to her hotel. "People don't seem to know I'm 102 years old. All this noise … it just started driving me crazy."
Emmett was quick to add she does not want her temporary exhaustion to sound like a complaint. She said she cannot imagine anywhere else she would rather be – cheering and backing a political movement she has every hope will lead to Clinton becoming the first woman to occupy the Oval Office.
Asked her thoughts on Donald Trump, Clinton's Republican opponent, Emmett breathes a heavy sigh. "If we are so sick in our minds as to put someone like Donald Trump in that office, I should just give up and go live with God," Emmett said. "I don't know how anyone could make a comparison between the two."
Still incredulous over her time in the national political spotlight, Emmett said her Democratic activism was planted in childhood growing up in the Phoenix area.
She was in elementary school when the 19th Amendment to the Constitution gave women the right to vote. "I remember," Emmett said, "we had about 400 people in Gilbert then, and we all went down and clapped and cheered because women had the vote. Men and women were cheering."
From that day forward, Emmett has been an outspoken advocate for women in politics. Her house is full of political memorabilia, and her family said she hoists an American flag outside her front door every day.
In 1990, Emmett founded the Democratic Women of the Prescott Area, a group that on Wednesday hailed her lively presence and participation in the national convention, members said.
The centenarian founded the Arizona Hillary Clinton Fan Club back when Clinton was first lady. Emmett said one of her regrets was that Clinton invited her to a tea at the White House but she ended up with pneumonia and her cousin, Dawn Knight, went instead.
Knight, 86, also a local Democratic powerhouse, said she had planned to go with Emmett to the convention, but family visits altered her plans.
Knight said she is delighted to watch her cousin, and lifelong idol, get doted on for "what she's lived for: politics, friends, democratic principles, and especially women."
"It's wonderful," Knight said.
Emmett's son, Jim, who lives across the street from the still-independent soul, joked that he reached his mother on Tuesday sitting in a bar. She was waiting on a beer and a bowl of soup. "I sure did," Emmett said of savoring a cold one at the end of what was a very long day.
With some rest, Emmett said she hopes to be able to absorb the pinnacle of this convention Thursday night: Hillary Clinton's nomination speech.
"Hillary is doing a very good job. And I want the attention to go back to her."
"Watch the Courier for a deeper look into Geraldine "Jerry" Emmett's life."
SUBMIT FEEDBACK
Click Below to:
More like this story