Yavapai College Notes: Pantalione, Ward inductees into ACCAC Hall of Fame
By
Doug Cook
|
dougout_dc
Originally Published: July 27, 2016 11:23 p.m.
PRESCOTT – The Arizona Community College Athletic Conference (ACCAC) will induct Yavapai College men's soccer coach Mike Pantalione and former Roughriders baseball coach Gary Ward into its 2016 Hall of Fame class, the college announced on Tuesday, July 26.
This is only the second class for the ACCAC Hall of Fame, inaugurated in 2015. Former Yavapai College athletic director and men's basketball coach Dave Brown gained recognition in the first class.
Pantalione and Ward will head into the Hall's 2016 class alongside Ray Butcher and Charles Dine of Arizona Western College; James "Bo" Hall of Cochise College; Jerry Hekekia of Eastern Arizona College; Lin Laursen and George Young of Central Arizona College; Heinz Mueller of Phoenix College; and Greg Silcox of both Glendale Community College and Paradise Valley C.C.
All inductees will receive a plaque from the conference.
In Pantalione's 27-year career at Yavapai, he has developed the most successful junior college men's soccer program in the nation. The Roughriders have won a record seven National Junior College Athletic Association (NJCAA) Division I national championships, 41 region and district titles, and 25 Arizona Conference crowns.
Pantalione currently owns the highest winning percentage of any collegiate men's soccer coach with a 574-50-27 record (.902) and is the all-time leader in wins at the JUCO level. In addition, Pantalione has received seven NJCAA National Coach of the Year awards and five National Soccer Coaches Association of America (NSCAA) Coach of the Year honors. He's an NJCAA Soccer Hall of Famer and has received several national awards for his contributions to the sport of soccer.
Ward, Yavapai College's first baseball coach, quickly put the program on the national map, guiding the Roughriders to NJCAA Division I national championships in 1975 and 1977. The program captured its fourth national title this past season of 2016 under coach Ryan Cougill. YC's other title came in 1993.
At Yavapai, Ward compiled an overall record of 240-83 and garnered NJCAA National Coach of the Year honors twice (1975, 1977). Ward started the Roughriders' baseball program in 1971. He left the YC campus after the 1977 campaign to become the coach at Oklahoma State University in Stillwater, Oklahoma.
Ward registered a 953-313-1 overall record at Oklahoma State, and his teams won 16 straight conference titles. He also guided the Cowboys to 10 trips to the NCAA Division I College World Series.
In 1996, Ward retired but would later coach his alma mater, New Mexico State, for two seasons, leading the Aggies to a College World Series appearance. Ward finished his coaching career with a record of 1,022-361-2. He's currently ranked 24th all-time in the NCAA record books for wins.
Yavapai College will recognize Brown, Pantalione and Ward at the college's own Hall of Fame induction ceremony on Jan. 20, 2017. The 2017 inductees into the YC Hall of Fame will be announced in September, athletic director Brad Clifford said.
Willie Calhoun nabs MLB Prospect Team of the Week honors
Former Yavapai College baseball slugger Willie Calhoun, who holds the Roughriders' single-season home-run record with 31 dingers in 2015, earned MLBPipeline.com's Prospect Team of the Week honors July 18-24.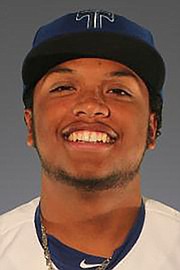 This is the third time this season that the left-handed hitting Calhoun, 21, has been recognized. He was a Texas League mid-season All-Star and snagged player of the week accolades on May 29 and June 12.
Calhoun, the Los Angeles Dodgers' No. 11 prospect, hit .300 in eight games for the Double-A Tulsa Drillers this past week. He blistered five homers, tallied nine RBIs and scored seven runs. He walked twice and had five strikeouts.
The 5-foot-8, 187-pound Calhoun, who started the season slowly at the dish, has come on strong of late. He led all second basemen with 24 total bases and those aforementioned nine RBIs this past week.
A fourth-round draft pick in 2015, Calhoun presently leads the Texas League with 67 RBIs, and his 22 HRs tie him for the league lead with Matt Chapman of the Midland (Texas) RockHounds.
Doug Cook is a sports writer for The Daily Courier. Follow him on Twitter @dougout_dc or reach him by phone at 928-445-3333, ext. 2039.
More like this story
SUBMIT FEEDBACK
Click Below to: