Bradshaw Mountain's Bundrick picked by USA Baseball Southwest club
By
Doug Cook
|
dougout_dc
Originally Published: July 26, 2016 11:41 p.m.
PRESCOTT VALLEY — Bradshaw Mountain High senior catcher Gunner Bundrick this past week was named to the Southwest squad of USA Baseball's 17-and-Under National Team Identification Series (NTIS), giving him a shot to qualify for Team USA.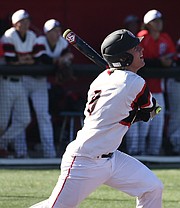 The 6-foot-3, 210-pound Bundrick will train with the 17U Southwest team from Aug. 18-21, in Cary, North Carolina.
Bundrick represents one of 18 players, including 12 position players and six pitchers, whom USA Baseball selected from Arizona, New Mexico, southern Nevada and west Texas in 17U.
"I'm very excited and honored to represent the Southwest 17U national team in North Carolina in August," Bundrick wrote in a text message from San Diego. "This will be a true test against some of the best players in the country."
To garner a spot on the Southwest team, Bundrick participated in selection events and tryouts.
"He plays a two-game series [in North Carolina this fall] against other 17U players from across the nation," said Bradshaw Mountain varsity baseball coach Brian Bundrick, Gunner's father. "From there, they will finalize the Select Team that will represent the United States at 17U."
After the high school baseball season this past spring, Gunner made the All-Division II Second Team; the All-D-II, Section V First Team; and the All-Courier team. He batted .500 with four homers, four triples, seven doubles, 27 RBIs and 12 stolen bases for the state playoff-qualifying Bears.
Gunner is also the starting quarterback for Bradshaw's varsity football team, which opens the 2016 season on Aug. 26.
This week, Gunner's participating in an invitation-only Dennis Gile QB Academy DimeDropper Mini Camp in San Diego. He's one of 14 QBs from across the nation who are attending.
"Unfortunately for him going to this camp in North Carolina [in August], he's going to be right in the middle of football [practices]," Brian said. "So we're going to have to take one or two days a week and just kinda continue the baseball stuff."
To receive a roster spot on the NTIS Southwest team, Gunner advanced through two rounds of cuts.
"The asset to this obviously is, No. 1, he's representing the Southwest," Brian said. "But secondly and equally important is just getting out there in front of both professional and college scouts. He's going to go against some of the best players in the country, for sure."
Most of the 17U Southwest players are incoming seniors, like Gunner. The NTIS' 11U, 13U, 14U, 16U and 17U teams will play in their respective age groups against 15 other regions from across the country at the USA Baseball National Training Complex and the adjoining Thomas Brooks Park in Cary, North Carolina, this fall.
From the NTIS, USA Baseball will invite a minimum of 58 players to future National Team Trials, the National Team Development Program and the Tournament of Stars. That pool of players will have the chance to represent Team USA in 2017.
"The NTIS gives players from across the country the opportunity to wear USA across their chest," said Mark Dvoroznak, USA Baseball Director of Program Development, on the Southwest NTIS' website. "It is an outstanding achievement for the athletes to be able to represent their region, and an honor to have a chance to be selected for next year's National Team Programming."
About USA Baseball
USA Baseball, the national governing body for baseball in the United States, is a member of the U.S. Olympic Committee and the World Baseball Softball Confederation.
The organization selects and trains players for the World Baseball Classic, Premier12 and Pan Am teams (and all other USA Baseball Professional Teams); the USA Baseball Collegiate National Team; the USA Baseball 18U, 15U and 12U National Teams; and the USA Baseball Women's National Team. All of these teams play in annual international competitions.
USA Baseball representatives say their organization is responsible for the continued proliferation and health of baseball. They add that USA Baseball leads a number of amateur initiatives, including PLAYBALL and Pitch Smart.
The organization also presents the Golden Spikes Award, given each year to the top amateur baseball player in the country.
For more information about USA Baseball, visit USABaseball.com, PLAYBALL.org, PitchSmart.org, GoldenSpikesAward.com or USABaseballShop.com.
More like this story
SUBMIT FEEDBACK
Click Below to: