NFL Rundown: NFL clears Peyton Manning of HGH allegations
Originally Published: July 25, 2016 11:05 p.m.
The NFL says it found no credible evidence that Peyton Manning was provided with human growth hormone or other prohibited substances as alleged in a documentary by Al-Jazeera America last year.
The league said the quarterback and his wife, Ashley, fully cooperated in the seven-month investigation, providing interviews and access to all records sought by investigators.
The NFL is continuing its investigation into allegations made against other NFL players in the documentary, which the league said involves "different lines of inquiry and witnesses." Those other players — all of them linebackers — provided the league with sworn affidavits, but the NFL wants to interview them in person.
In stark contrast, Manning, who retired a month after Denver's 24-10 win over Carolina in Super Bowl 50, welcomed the probe.
In December, Al-Jazeera reported that an intern at an Indianapolis anti-aging clinic was secretly recorded suggesting that Manning's wife received deliveries of HGH in 2011 while the quarterback was recovering from neck fusion surgery. The intern, Charles Sly, recanted his statements, which were recorded without his knowledge. He said they were fabricated in an attempt to impress a potential business partner.
Manning angrily denounced the report, calling it "completely fabricated, complete trash, garbage," and insisting he never took shortcuts in his return to football after missing 2011 with neck problems.
At the time the allegations were levied, both the Broncos and the Colts, whom Manning played for from 1998-2011, issued statements in support of the five-time MVP.
Manning said he sought holistic treatments such as hyperbaric oxygen and nutrient therapy at the Guyer Institute of Molecular Medicine with knowledge and consent of the Colts training and medical staff following his four neck surgeries. He insisted he never used performance-enhancing substances and never took anything sent to his wife.
HGH is banned by professional sports leagues and is only legal to prescribe in a few specific medical conditions.
The Al-Jazeera report alleged other athletes obtained PEDs, including baseball stars Ryan Howard of the Philadelphia Phillies and Ryan Zimmerman of the Washington Nationals. The report also named four other prominent NFL players: Clay Matthews and Julius Peppers of the Green Bay Packers, James Harrison of the Pittsburgh Steelers and free agent Mike Neal.
NFL investigating possible Aldon Smith drug video
ALAMEDA, Calif. (AP) — The NFL is investigating whether a video linked to an account from suspended Oakland Raiders linebacker Aldon Smith shows him using illegal drugs.
A video on a Periscope account that has shown Smith in the past features an unidentified man off camera discussing a rolled cigarette with an unidentified woman. It's not clear what's in the cigarette and who the man is. Smith sent out a tweet Monday after CSNBayArea.com reported on the video saying "Good try, not me."
NFL spokesman Brian McCarthy says the league is investigating.
Smith is serving a one-year suspension for violating the league's substance abuse policy that ends Nov. 17. He can apply for reinstatement in September. He gets regularly drug tested while on suspension.
NFL reinstates wide receiver Josh Gordon
CLEVELAND (AP) — Josh Gordon's curious and complicated career has taken a new turn.
He's getting yet another chance.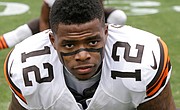 The talented but troubled wide receiver has been reinstated on a conditional basis by NFL Commissioner Roger Goodell, who met face to face with Gordon last week and said he believes the 25-year-old can "make the right choices" going forward.
Gordon has been banned since February 2015 for multiple violations of the league's drug policies. He will be suspended for the first four games of the 2016-17 season, but he's allowed to join the team in its upcoming training camp and can participate in meetings and conditioning work.
The league said once Gordon meets clinical requirements, he can take part in preseason activities, including practices and games. The Browns have their first practice of training camp Friday.
It's a fresh start for Gordon, who emerged as one of the league's rising stars in 2013 before several missteps led to his banishment.
Gordon expressed his gratitude in a message on Twitter.
"I'm blessed and grateful to be granted this opportunity," he wrote. "I can't wait to get back out there and play the game I love in front of the great fans of Cleveland."
As long as he stays clean, Gordon, who met with Goodell in New York on July 19, is eligible to return to the team on Oct. 3 and play in the Oct. 9 home game against New England. That's also the game in which Patriots quarterback Tom Brady will return following his suspension for Deflategate.
Gordon was suspended 10 games in 2014 and the entire 2015 season for substance violations, a pattern that began during his college career at Baylor and Utah.
3 Raiders to be sidelined by injuries at start of camp
ALAMEDA, Calif. (AP) — The Oakland Raiders will begin training camp with at least three players sidelined by injuries.
The team announced Monday that rookie offensive Vadal Alexander has been placed on the non-football injury list and running back Roy Helu Jr. and undrafted rookie defensive end Greg Townsend Jr. are on the physically unable to perform list. The team did not disclose the injuries for the three players.
They will count against the 90-man roster, but will not practice until they are healthy.
First-round safety Karl Joseph, who missed the offseason program recovering from knee surgery, is expected to be ready to go when training camp starts on Friday.
Ex-NFL standout Mark Wheeler facing charges
BRYAN, Texas (AP) — Former NFL and Texas A&M defensive lineman Mark Wheeler faces drug-related counts after being arrested in a campus parking lot.
Brazos County jail records show Wheeler was being held Monday on charges of possession of a controlled substance, possession of marijuana and possession of drug paraphernalia.
Online records don't list an attorney for the 46-year-old Wheeler, who's from San Marcos. His bond was $10,200.
KBTX-TV reports Texas A&M police before dawn Monday responded to reports of a suspicious person in a truck. An arrest report says police found marijuana and cocaine in the vehicle.
Wheeler played for the Aggies in the early 1990s. He was chosen by Tampa Bay in the third round of the 1992 NFL draft. Wheeler also played for New England and Philadelphia during eight NFL seasons.
49ers promote Tom Gamble to assistant GM
SANTA CLARA, Calif. (AP) — The San Francisco 49ers have promoted Tom Gamble to assistant general manager.
General manager Trent Baalke announced the move on Monday, calling Gamble an "accomplished talent evaluator."
Gamble returned to the 49ers in January 2015 as a senior personnel executive after spending two seasons in Philadelphia as vice president of player personnel. Gamble worked with current 49ers coach Chip Kelly during his time with the Eagles.
Gamble had spent eight seasons previously in San Francisco and was director of player personnel in his final two seasons. Gamble is entering his 29th season in the NFL.
Phil Loadholt retires from NFL after 7 seasons
MINNEAPOLIS (AP) — Minnesota Vikings right tackle Phil Loadholt has decided to retire from the NFL after seven seasons, halting his comeback from injury because of a recent setback.
The Vikings placed Loadholt on the reserve/retired list Monday, four days before the team's first practice of training camp.
Loadholt, a second-round draft pick by the Vikings out of Oklahoma in 2009, missed the 2015 season because of a torn Achilles tendon on his left foot. He also missed the last five games of the 2014 season because of a torn pectoral muscle.
Loadholt took a pay cut to return for the final year of his contract and went through spring workouts and minicamp without obvious problem, but he said Monday that he suffered a left leg injury in the past few weeks that steered him toward the end of his career.
"I just figured that my body was telling me that it was time for me to go ahead and transition out of the game," Loadholt said.
Prior to those injuries, the 6-foot-8, 345-pound Loadholt sat out only twice over the first 93 games of his career including the playoffs. He was a starter from his rookie year on.
Redskins release Kyshoen Jarrett after failing physical
ASHBURN, Va. (AP) — The Washington Redskins have released Kyshoen Jarrett after the safety failed his physical before training camp.
Jarrett sustained nerve damage to a shoulder in the regular-season finale against Dallas. He didn't participate in any offseason activities. Coach Jay Gruden said in May that the 23-year-old player was seeing a specialist in Denver.
Jarrett, a Virginia Tech product, appeared in all 16 regular-season games in his rookie year and started six. He had 58 tackles, which includes his time on special teams.
Packers WR Jordy Nelson to start camp on PUP list
GREEN BAY, Wis. (AP) — Receiver Jordy Nelson won't practice when the Green Bay Packers begin training camp on Tuesday.
Nelson was one of six Packers placed on the physically unable to perform list on Monday. Nelson is coming back from a torn right ACL injury that kept him out for 2015.
The Packers have said that they might be cautious with Nelson as he comes back from injury. The Packers also have five preseason games this year since they play in the Hall of Fame game on Aug. 7.
Other Packers starting on the PUP list include linebacker Sam Barrington and tight end Jared Cook; receiver Ty Montgomery (ankle); guard T.J. Lang (shoulder) and center Corey Linsley.
NFL, players union roll out new concussion protocol
NEW YORK (AP) — The NFL and the players association have announced a new policy regarding game-day concussion protocol and discipline for clubs that violate the procedure.
Under the new policy jointly announced Monday, the NFL and NFLPA "will follow a strict and fair process to investigate incidents and determine appropriate discipline, including club fines and possible forfeiture of draft picks."
The league and the players union will each designate a representative to monitor the implementation of the protocol and investigate potential violations. The probe won't reach medical conclusions; it will only determine if the protocol was followed. An arbitrator will handle cases where the league and union disagree and report to the commissioner.
Commissioner Roger Goodell retains sole discretion in determining penalties for violations of the game-day concussion protocol.
A first breach will require club employees or medical team members involved to attend remedial education and/or result in a maximum $150,000 fine against the team. Clubs will be fined a minimum $100,000 for subsequent violations.
There are additional penalties if the violation involves aggravating circumstances, and the commissioner may impose more severe financial penalties and require clubs to forfeit draft picks if it's determined that a club's medical team ignored protocol for competitive reasons.
More like this story
SUBMIT FEEDBACK
Click Below to: