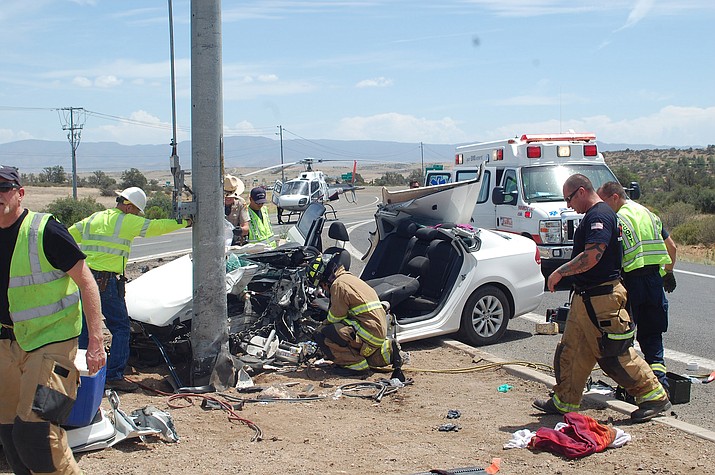 Photo by Tim Wiederaenders.
Originally Published: July 25, 2016 4:16 p.m.
PRESCOTT – The driver of a car that struck a power pole at the intersection of Willow Creek Road and Pioneer Parkway on Sunday morning, July 24, lost consciousness while turning, according to Sheriff's spokesman Dwight D'Evelyn.
At approximately 10:30 Sunday morning, Yavapai County Sheriff's deputies and fire crews were dispatched to the single-vehicle crash. The driver, Byron Drury, 79, and his passenger, Brian Shields, 45, both of Chino Valley, were trapped in the vehicle.
The sedan did not make the turn from Willow Creek Road northbound onto eastbound Pioneer Parkway, instead striking the power pole there.
Shields was transported to Yavapai Regional Medical Center West via ground, said Conrad Jackson of the Prescott Fire Department. The driver, Drury, was flown to Flagstaff Medical Center.
Monday afternoon, D'Evelyn said Drury was still in the hospital with a broken leg and other associated non-life threatening injuries.
D'Evelyn reported that Shields had a broken left leg and arm but did not known if he had been released from the hospital.
Both men wore seatbelts.
"Based on the investigation to date and statements from the passenger, it appears the driver suffered a medical issue which caused him to temporarily lose consciousness during a turning maneuver," D'Evelyn said, "As a result, the vehicle struck a power pole at the southeast portion of the intersection."

More like this story