Hold your britches, Whiskey Row Shootout continues today

By
Max Efrein
|
mefrein
Originally Published: July 24, 2016 6:01 a.m.
PRESCOTT - "Well-behaved women seldom make history."
The old saying is plastered across some T-shirts at this year's Whiskey Row Shootout and speaks to the nature of the free event hosted by The Prescott Regulators and their Shady Ladies (PRSL).
Photo Gallery
Whiskey Row Shootout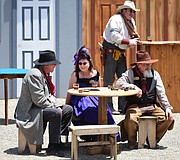 Full of hooting and hollering, the 11th annual re-enactment competition is considered one of the best in the West.
"It's the largest event of its type in the state of Arizona," said Neil Thomas, president of the Prescott Regulators. "It's a way to keep the Old West and the history of Prescott alive."
By invitation only, re-enactment groups from throughout the United States gather on Whiskey Row to pop off pistols and smash bottles in what are often humorous, action-packed skits. One such group this year that traveled from Southern California is called The Guns of the Round Table. It's their fourth time competing in the event.
"Basically, you're looking at a live stage play in the dirt," said Eddie "Twoson" Caldwell, a leading member of the group. "All of our guns are real and are capable of firing live ammunition. We're shooting blanks, obviously."
"It's a blast," said Caldwell's adopted son Bobby Patriquin, who is in the group along with several other family members.
To determine who wins what are commonly cash prizes ranging from a few hundred to $1,000, judges look at each groups' outfits, guns, safety and storylines.
"[Each skit] has to have a beginning, a middle and an end," Caldwell said. "And usually it's ending in a gun fight, because that's what the people want to see."
Often times, the skits portray a piece of Old West history with characters that would have existed at the time.
Shady Ladies member Jerry Thomas, for instance, played as Pauline Markham, a singer and burlesque dancer popular in the mid- and late-1800s, during a PRSL re-enactment on Saturday, July 23.

"She would have been a shady lady," Jerry said. "Those independent women who didn't want to be tied down, per say, and who wanted to live, adventure and work were considered shady."
Even school teachers were seen as shady ladies to some degree, Jerry said.
"So it's not just prostitutes, madams or women of the night; shady ladies were any women that weren't considered proper," she said.
Overall, at least nine re-enactment groups will have competed by the end of the two-day event, with results announced at 4:30 p.m. Sunday.
In between acts, spectator Ginger Foshe said she was marveling at all of the re-enactors strolling around downtown. "I saw a group of them walking along Whiskey Row and it just really takes you back in time," Foshe said.
All of proceeds go into a scholarship fund reserved for Yavapai County veterans and their families. The $2,000 raised in donations last year was passed into the fund this year and will be split into two $1,000 scholarships for veterans seeking an education.
More like this story
SUBMIT FEEDBACK
Click Below to: