Prescott's Rosborough wins 2 titles at USA Nationals
By
Doug Cook
|
dougout_dc
Originally Published: July 23, 2016 11:23 p.m.
PRESCOTT — In early February, youth mountain-biking phenom Hayden Rosborough of Prescott did something not entirely expected of a 14-year-old these days.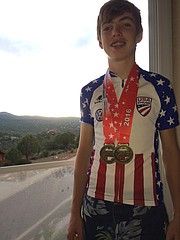 He text-messaged pro mountain biker and Prescott-based cycling coach T.J. Woodruff, asking him for advice on how to train for the USA Cycling Mountain Bike National Championships July 13-17 in Mammoth Mountain, California. Woodruff runs his own training business called Momentum Endurance.
"I was wondering if u [sic] could help me get on a training program," Rosborough texted. "I just want to go 100% and see how good I can do in Nationals this year."
Woodruff was so impressed with Rosborough's initiative that he posted Rosborough's words along with his own response to the young teen on Facebook July 16.
"I don't get texts like this all of the time, so I certainly took notice when an 8th grader had the motivation and foresight to reach out five months in advance of a big race," Woodruff wrote.
In the end, Rosborough's "motivation and foresight" empowered him.
Rosborough credits Woodruff's guidance for helping him win two national titles in the ages 13 and 14 category in cross-country and cross-country short track earlier this month. In 2015, T.J.'s wife, 2016 U.S. Olympic mountain biker Chloe Woodruff, similarly captured two national titles in the pro women's category.
T.J. has assisted Chloe in her training and traveled with her to races. He provided similar support for Hayden this month.
"Hayden was motivated to do his best. Focusing on what counts most kept training fun and effective," T.J. penned. "… He worked hard, did easy recovery rides and kept focused on being his best. It was fun to be there at the finish to see him cross the line as the 13-14 National champ."
Every week during a five-month span leading up to Nationals, Hayden either emailed or texted with T.J. regarding the specifics of his training regimen. Last year, Hayden finished 18th at Nationals and was driven to improve.
"I wanted to get serious on training for Nationals," Hayden said July 22. "From there out, I kept on following the training plan."
NATIONALS EXPERIENCE
At Nationals, Hayden trailed after the first lap of the cross-country race. But he battled it out over the next three laps and pulled away in the stretch run behind his superior stamina and speed.
T.J. told Hayden to save energy for a final push in the race, advice which Hayden heeded.
Hayden excels on the climbs, and that's how he won in the last 2.4-mile lap, finishing with an impressive total time of 48 minutes, 17 seconds. Luke Lamperti, the runner-up, completed the climbing course 2:31 behind Hayden. Hayden's training at mile-high elevation in Prescott benefited him in Mammoth, where the altitude ranges from 9,000-11,000 feet.
In the short track, Hayden led the whole way, completing seven half-mile laps in 12 minutes and 12 seconds on a fairly level course.

Hayden admits that he deviated from his strategy of not pushing himself too hard in the race initially so that he could have short periods of recovery. T.J. told Hayden to remain in the front pack of riders and wait until the last lap to attack.
"I just put the hammer down the entire race," Hayden said. "It worked."
UP-AND-COMER
Hayden rides 7-12 miles per day five or six times a week near his home in the rolling hills of south Prescott. He does high-intensity rides to boost his endurance and recovery rides to stay fresh.
For his age and experience (two years racing competitively; riding a mountain bike since age 5), Hayden has recorded significant accomplishments.
As a member of the Thin Air Racing team this past year in Prescott, Hayden compiled 125 total points to win a state title in the Mountain Bike Association of Arizona (MBAA) race series.
This fall, Hayden will likely ride for the elite AZ Devo team, a well-sponsored squad that T.J. mentors. He will also compete for Prescott High's National Interscholastic Cycling Association (NICA) team, which placed second in the state last season.
An incoming freshman, Hayden said his victories at Nationals have given him even more motivation to "keep at it and see how far I can go" in mountain biking.
Hayden, who received medals for his Nationals wins, will wear the "Stars and Stripes" USA jersey for a full year during competition. In 2017, Hayden will move up at Nationals, riding in the ages 15-16 category.
"It kind of puts him on the radar, whether that's a big-sponsor name or a big-sponsored team," said Herb Rosborough, Hayden's dad, about his son's Nationals wins. "As far as the kids that are up-and-coming now in the [ages] 15-16 category, they're going to be taking him really serious next year."
At the end of his Facebook post on July 16, T.J. shared another piece of advice for Hayden, which Hayden took to heart as his mountain-biking journey continues.
"Don't sweat the stuff that's out of your control and strive only to be your best," T.J. wrote. "If you can do that, you'll be successful. This is true for junior riders and Olympians."
More like this story
SUBMIT FEEDBACK
Click Below to:
This Week's Circulars
To view money-saving ads...