Obituary: Elizabeth K. Knight
Originally Published: July 22, 2016 6 a.m.
Elizabeth "Grandma Betty" Knight passed away peacefully at her daughter's home Saturday, July 9, 2016. She was 91 years young.
Betty was the second daughter of Stephen Paul Knapik and Mary (Kriesak) of Woronco, Massachusetts. Her parents were Eastern European immigrants who came to the USA in 1902 to escape war and poverty. In fact, things were so bad that the whole village relocated to Western Massachusetts!
She grew up during the Great Depres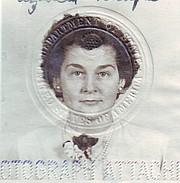 sion and was close to her 3 sisters and one brother, Madalene, Dorothy, Claire, and Stephen. Her father taught her to recite the "ABC's" backwards in order to surprise the class. She could still do it at age 90!
She graduated from Westfield High School in 1942. Caught up in WWII, she joined the civilian Woman's Aircraft Maintenance Squadron (WAMS) in 1943 and served 3 years at Westover Field and in Rome, New York. She also learned to fly and soloed. She recently met a veteran who also served at Westover Field at the same time, and they enjoyed sharing memories.
In 1946, after the war, Betty began a civil service career in Washington, DC. Always adventurous, she moved to California and then transferred to Germany She traveled all over Europe, bringing home many treasures that were to become family heirlooms.
Betty married a handsome USAF Colonel, Milton R. Knight, at a castle in Weisbaden, Germany. Her second career was that of an officer's wife and they traveled the Mediterranean area while stationed in Izmir, Turkey, with 3 small children in tow.
In 1976, Betty and Milton retired to their Park Avenue home in Prescott. She enjoyed all the wonderful Park Ave. neighbors, RVing, and walking downtown to do errands and going to the dances on the Plaza. She was a talented watercolor artist and her art graces many homes. Betty was an excellent hunter and her grandsons were honored to borrow her shotgun and 30.06 rifle to go dove and deer hunting.
For her 90th birthday, Betty was downtown dancing to the music of Brad Newman at Taco Tuesday, out on the patio in the middle of December! And her hair never turned grey, it remained dark brown her whole life! She was extremely proud of her granddaughters Bethany and Eden, and grandsons Clint, Shane, and Jack. Her son Andrew and wife Debbie live in Harrogate, England. Her daughter Cathey and husband Tom live in Prescott.
A final art show and gathering for friends and family will be held Friday, August 5, 2016 at 2pm, at Hampton Funeral Home. 240 S. Cortez Street in Prescott. She will be laid to rest next to her husband and son Billy over Labor Day Weekend at the family plot in Washington, Utah.
Arrangements entrusted to Hampton Funeral Home.
Information provided by Betty and her family.
SUBMIT FEEDBACK
Click Below to: