Multi-vehicle pileup sends one person to the hospital
Originally Published: July 22, 2016 2:15 p.m.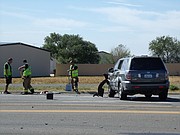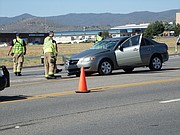 PRESCOTT VALLEY – A four-vehicle crash Friday morning on Highway 69 just east of Glassford Hill Road was followed by a hit-and-run collision, according to Prescott Valley Police Officer Jerry Ferguson.
It happened at about 8:45 a.m., when westbound traffic on Highway 69 was stopped, Ferguson said.
A pickup, driven by a 19-year-old man struck the back of a car, knocking it into oncoming traffic.
The car was hit by an eastbound car and then by a pickup.
The hit-and-run occurred when an unrelated vehicle, whose driver stopped to help, was struck by another car that left the scene, Ferguson said.
The crash resulted in one person being taken to the hospital, according to Central Arizona Fire Battalion Chief Todd Abel.
The vehicles sustained moderate-to-heavy damage, but Abel said, just one person went to Yavapai Regional Medical Center for evaluation by ambulance, and a second victim refused treatment.
"Those vehicles were banged up pretty good. I was very surprised," Abel said.
He said the eastbound lanes of Highway 69 were closed while police investigated and the wreckage was cleaned up.
SUBMIT FEEDBACK
Click Below to:
More like this story