Yavapai County has 21-year plan to pay back $40.1M in state retirement funds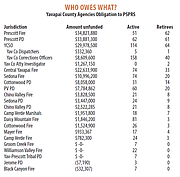 Every town, city and county pays into in the Public Safety Personnel Retirement System (PSPRS), and the manner in which they manage this payment often looks different from one PSPRS member to another.
Yavapai County has a 21-year plan in place to pay off its $40.1 million unfunded liability of PSPRS debt. Yavapai County Administrator Phil Bourdon said the county has been making its required payments since about 2009, when PSPRS recognized there was a problem with unfunded liability.
This year, however, with added revenue in the budget, board members are increasing the county's contribution rate with hopes of paying it off sooner.
"Our plan is to address it over the next 21 years. As revenues increase in the county, we'll look at making additional payments," he said.
Unlike the City of Prescott, Yavapai County has no fire department that falls under PSPRS. What it does have are the Sheriff's Office, dispatchers and corrections officers which pay into the PSPRS plan. It also has a "legacy retirement fund" for two retired county attorney investigators (the county no longer uses this fund). As of fiscal year 2016-17, the estimated unfunded liability is $40,187,651.
In 2003, the PSPRS investment pool had no unfunded liability; currently, the level stands at $6.3 billion, and its 32,000-plus members have 21 years to meet that obligation.
PSPRS develops each employer contribution rate based on a percentage of payroll. If overall payroll increases, so will the contribution rate. "For example, if there were two active members in the plan last year and one of the members retired, the existing unfunded liability would now be spread over the payroll of one member instead of two members, and the resulting contribution rate would be much higher," the actuarial report, which drives each year's contribution rate, states.
Bourdon said every county employee is in some type of retirement system. The bulk of all public employees in the state contribute to the Arizona State Retirement System (ASRS), as do the majority of county employees. They pay 11.48 percent of their salary into ASRS, same as their employer (50/50 split).
Public safety personnel, however, pay into the PSPRS plan. When the economy began to worsen in 2003 around the country and locally, the PSPRS investments lost value and became an unfunded liability to its members. Those receiving retirement benefits must be assured they could continue to receive them.
In addition, a recent court decision ruled in their favor to support a cost-of-living increase for retirees. Thus, in 2014, PRPRS required even higher payments from its members to cover the increase, and gave them a choice of paying that off in one lump sum or spreading it out over three years. The county chose to make one payment.
Many municipalities, however, are having difficulty meeting those stiffer obligations, Bourdon said.
"Hardly anyone has been able to pay additional funds. Now, as the financial picture is getting better, we should look at making additional payments. If you pay a little more now, your contributions will be lower later on. I asked the Board (of Supervisors), as we're doing better, 'Would you like to put more money into contributions toward the debt?'" Bourdon explained.
The City of Prescott has made all payments to PSPRS as required, said Deputy City Manager Alison Zelms. Nevertheless, the court case has impacted employer costs.
According to the July 5 presentation to the Prescott City Council, with revenues remaining at the FY2015 levels in which fire and police PSPRS payments made up 15 percent of the general fund, the city projects the PSPRS payment to increase in FY2018 to 21 percent of the general fund, and 36 percent in FY2033. Its PSPRS debt is nearly $70 million.
"City and county funding sources available for payment of PSPRS obligations are very different," Zelms said. "The county levies a significant property tax; city revenue from property tax is minor." Also, city sales tax shrunk during the recession and only recently has reached pre-recession levels. The city relies on tourism for sales tax revenue and had to sustain services and amenities.
"Prescott is a full-service city and the county is not a full-service provider," Zelms said, adding that comparing the two different levels of government with respect to their PSPRS obligations "would clearly be more conjecture than fact."
The unfunded liability changes slightly every year, based on an actuarial report every PSPRS member receives. Factors include payroll changes in dollar contributions, number of retirements, turnover, disabilities and deaths. The report states, "There remain unrecognized investment losses that will, in the absence of other gains, put upward pressure on the contribution rate next year."
Yavapai County Sheriff Scott Mascher gives the county a lot of credit for its fiscal accountability to taxpayers.
"I have a lot of faith in Phil (Bourdon) and the county supervisors and how they are handling the unfunded mandates. He's doing a great job for the employees in the Sheriff's Office," Mascher said.
Bourdon said the county has been pretty conservative over time and keeping tax rates as low as possible.
"We haven't started new programs; we concentrate on the core needs of county government," he said. "We look at this as a cost of doing business. It's a debt, we gotta' pay it off over time. That's the plan."
More like this story
SUBMIT FEEDBACK
Click Below to: